A Former Rickshaw Depot from the 1900s Is Now Home to Michelin-starred Restaurant Born in Singapore
 Housed within the iconic Jinrikisha Station building at Tanjong Pagar, Restaurant Born by Chef Zor Tan represents the culmination of his life's journey
Share this exclusive content from Saladplate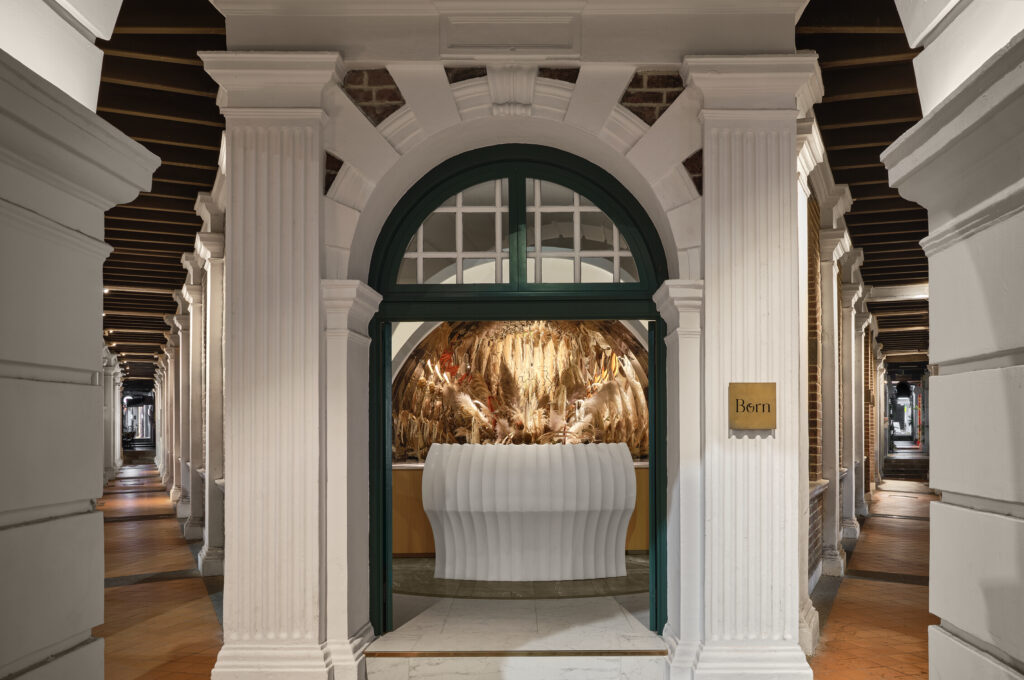 Photo caption: Main entrance of Restaurant Born | Photo Credit: Restaurant Born
It has been just over a year since its official opening and fine-dining establishment Restaurant Born, helmed by chef-owner Zor Tan, has already picked up a string of accolades. These include its first star at the Michelin Guide Singapore 2023 and the No. 36 spot at Asia's 50 Best Restaurants 2023. Apart from running to a full house with many takers for their exceptional contemporary cuisine, Born is housed in a conserved building circa 1903. Once a depot to rickshaws and today an icon of Singapore's architectural history, it is also making waves in the industry for its stunning interiors, designed by global hospitality design agency Grey Matters.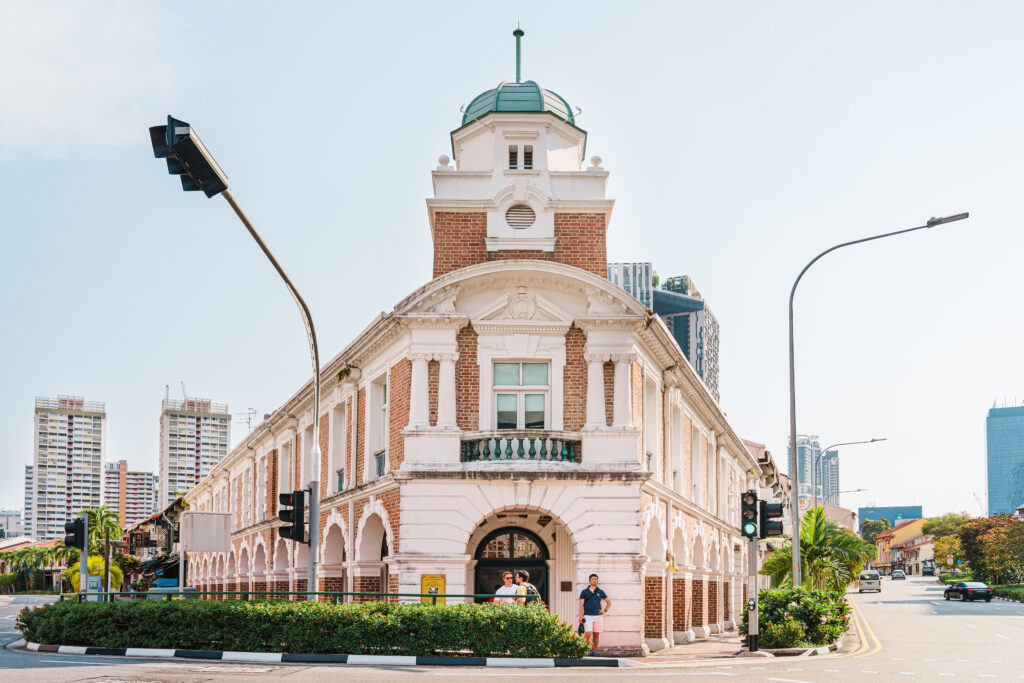 Photo caption: The iconic Jinriksha Station building as it stands today | Photo credit: Elsen Ho/FoodNews for Saladplate
A Star Is 'Born'
Every detail surrounding the restaurant, from the location to the interiors and cuisine, is centred around Zor's circle of life philosophy.
Starting with the location.
Zor decided on the former rickshaw depot after viewing more than 20 potential locations because the history of the property and the purpose it served back in the day – for the registration and inspection of rickshaws as well as a shelter for rickshaw pullers – resonated with his own story.
"For someone who also started from humble beginnings, I saw the building as a platform for hard work and dreams."
Growing up in Johor Bahru, Malaysia, Zor's parents ran a mixed-rice hawker stall and made sure that he and his brothers always had food to eat whenever they came home from school. "Food is my biggest memory of them. We would always sit together and eat. We were poor, but happy," Zor shared in an interview.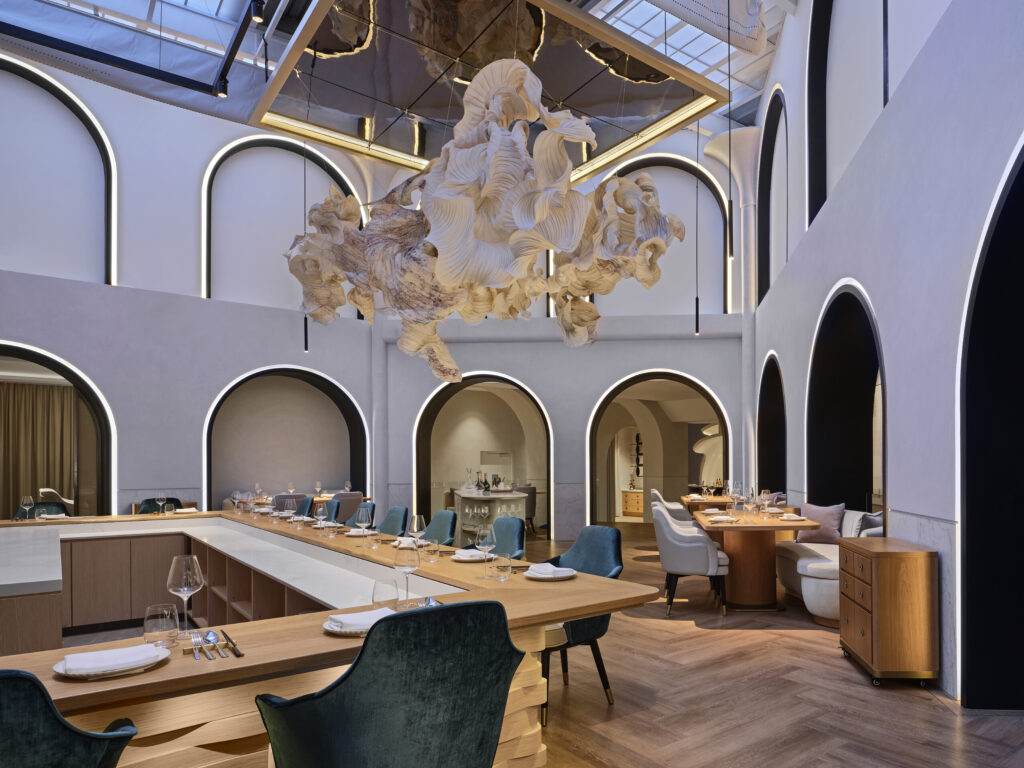 Photo caption: Main dining room | Photo credit: Restaurant Born
The acronym for "Best of Right Now", Born is also symbolic of how Zor has come full circle with his career. The 36-year-old Malaysian-born chef first entered the F&B industry when he was 17 and spent more than a decade working with acclaimed chef Andre Chiang. He made his way up from the lowest ranks of the kitchen at Jaan (No. 39 on the World's 50 Best Restaurants 2010)  to the position of executive chef at the now defunct Restaurant Andre (Two Michelin Stars and No. 2 on Asia's 50 Best Restaurants 2017). He also led Chiang's other concepts to critical acclaim, including Raw in Taipei (Two Michelin Stars and No. 21 on Asia's 50 Best Restaurants 2021) and Sichuan Moon in Macau (Two Michelin Stars and No. 23 on Asia's 50 Best Restaurants 2020).
"Born encapsulates feelings of happiness, excitement and great anticipation – the emotions of waiting for the arrival of a baby," the father of two young children explains. "You can say it represents the birth of a brand new me, the decision to leave my mentor and the momentous step to start my own venture," Zor was quoted as saying in a feature by Design and Architecture.
An Iconic Location
Located at the junction of Neil Road and Tanjong Pagar Road in Singapore, the Jinrikisha Station was built in 1903 and served as the city's main rickshaw depot. Following the 1947 ban on rickshaws in Singapore, the building was used for several other purposes, such as a family-planning clinic, before it was gazetted in 1987. The historical landmark was bought over for commercial redevelopment by investment company L&B Holdings in 1989, and subsequently sold to Hong Kong movie star Jackie Chan in 2007 who had plans to revamp the building by adding a piano bar, foot reflexology business or offices. It eventually housed karaoke bars, restaurants and offices, right up until Zor spotted the location to establish his restaurant.
A Homage to Zor's Circle of Life Philosophy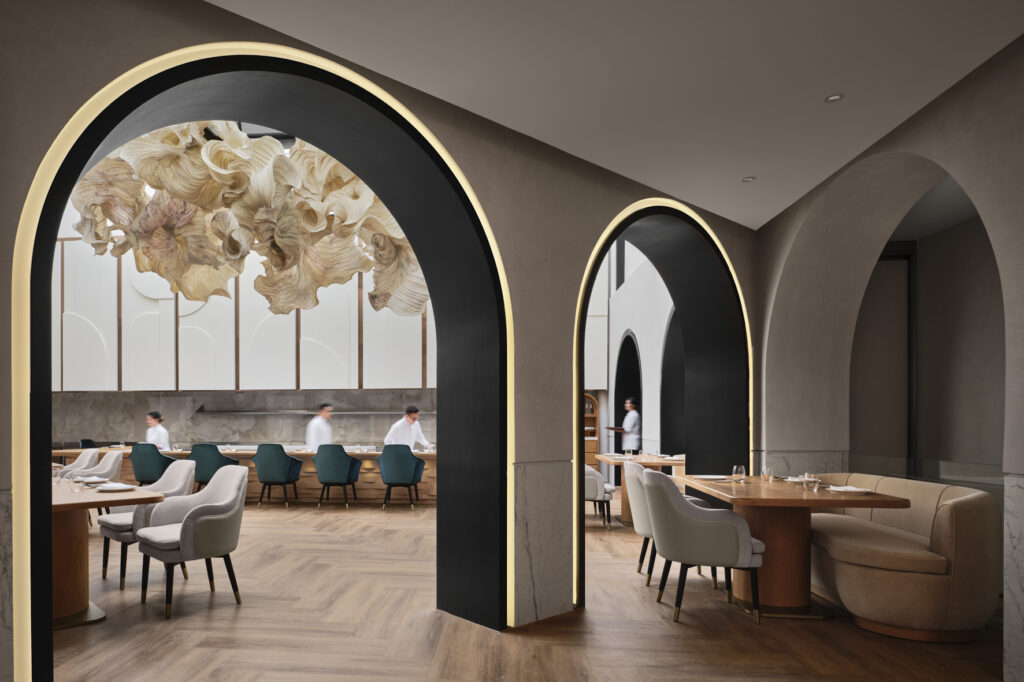 Photo caption: Archway leading into the main dining room | Photo credit: Restaurant Born
The brief from Zor was simple but complex: to transform the space into a warm, sophisticated space that feels like home. Wookie Park, Associate Design Director of Grey Matters, was tasked with translating this brief into reality.
While it may sound straightforward, Park and his team had to deal with constraints posed by the 4,300-square-foot site, including a triangular floor plan, double-volume void and existing walls with upper internal windows.
Following a complete overhaul that took the team five months to finalise the design and six months to build, the naturally-lit space now features a neutral colour palette, a deliberate choice made by the design team to let the existing elements of the building shine. Case in point is the 120-year-old building's original arches, which have been lined with blackened steel and edged with cove lighting, creating a dramatic entry to the double-height dining room.
While the glazed ceiling in the main dining room is excellent for allowing an abundant natural light in, the space also gets a lot of direct sunlight. To mitigate this, the design team installed a layer of frosted glass below it, doubling up to mute the sound of heavy rain.
In the same area, the unsightly upper internal windows have been cleverly concealed with decorative arches, which also serves as a metaphor for the different stages of Zor's journey.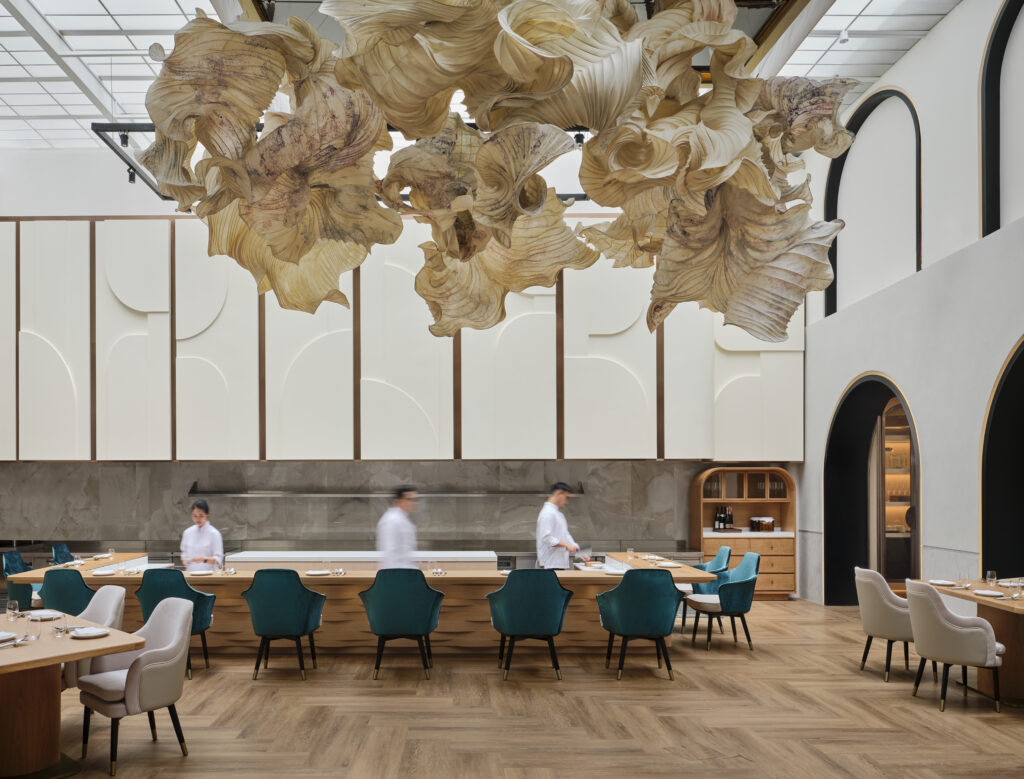 Photo caption: Main dining room | Photo credit: Restaurant Born
Specially commissioned artworks were thoughtfully incorporated into the space, transforming the restaurant into a gallery. A striking and unmissable piece that anchors the main dining room is an imposing sculptural installation made of pulped paper by Dutch artist Peter Gentenaar. Inspired by Zor's Circle of Life philosophy, the sculpture, which features organic billowing forms, seems to suggest that every infant is born with wrinkled skin and when people get old, these wrinkles grow; we are therefore born in nature and eventually return to it.
Sharing his interpretation of this showstopping installation, Zor says, "For me, it suggests that all things in nature connect to one another."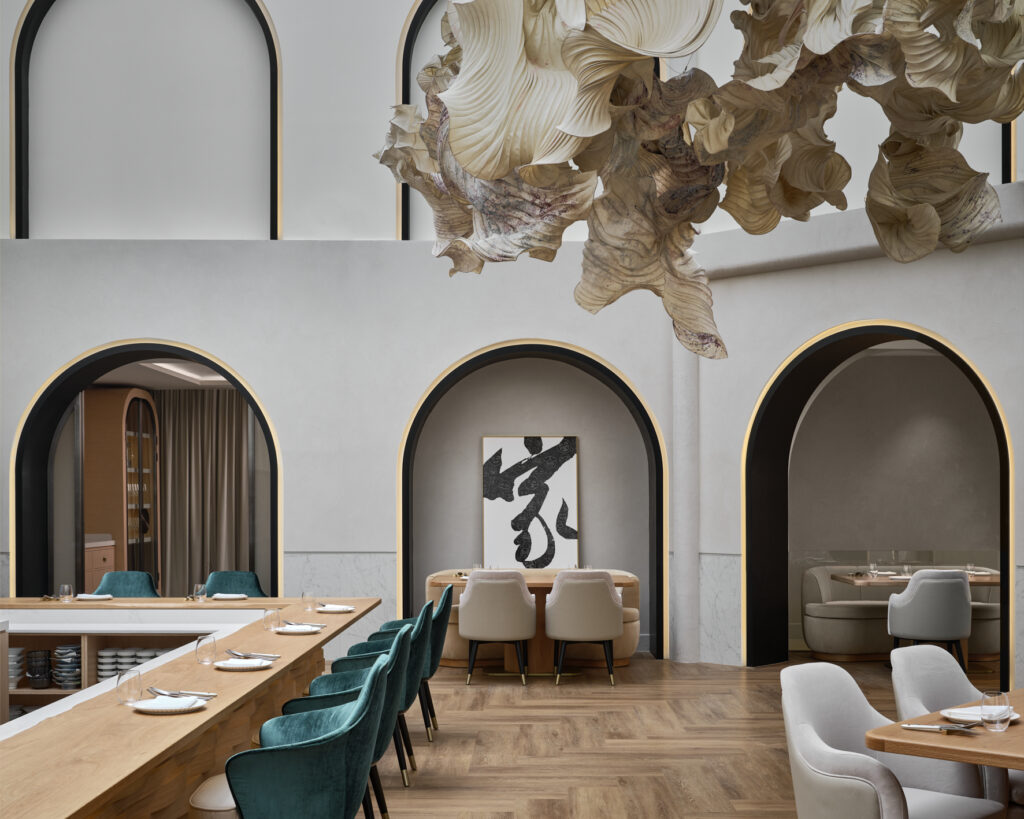 Photo caption: A calligraphic artwork by Kobe Sek | Photo credit: Restaurant Born
Other notable design highlights include a calligraphic artwork by Kobe Sek, featuring the Chinese character for "home" or "family", which pays homage to the restaurant's circle of life theme.
The Life Story of a Chef Told Through A Gastronomic Meal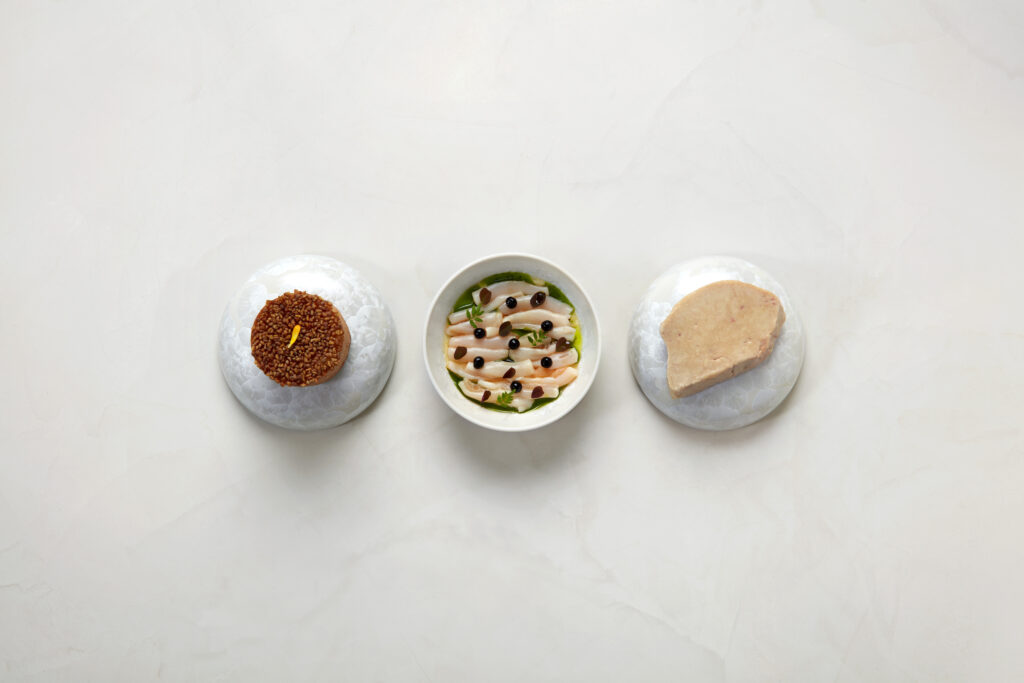 Photo caption: A Dish Of Foie Gras, Custard and Espardenyes |  Photo credit: Restaurant Born
Combining French techniques that he was trained in with the Asian influences of his heritage, Zor serves up what he describes as contemporary cuisine at his restaurant. Like the space, the food, too, is cemented around his circle of life philosophy, expressed through nine guiding principles: Birth, Roots, Memories, Craft, Relationship, Vicissitudes, Time, Progress and Legacy. To Zor, his dishes are not simply about how it looks or tastes, but the story behind it.
Inspired by his own personal food memories, the multi-dimensional dining experience starts with a series of snacks like the Potato / Vanilla / Caviar, which brings him back to his childhood days, eating French fries dipped in soft serve ice cream. Surprising yet comforting, this sweet-and-savoury, creamy-and-crisp snack features rolled potato crisp filled with a potato vanilla crème anglaise and finished with Oscietra caviar.
A dish of Foie Gras / Custard / Espardenyes tells of his first encounters with Espardenyes in Spain, and Portuguese egg tarts from Macau's famous Lord's Stow Bakery. Similarly recalling his time in Macau, the signature Monkfish / Fermented Capsicum / Chicken Fat, is the brilliant product of chef's personal challenge of giving nuance and lightness to the bold flavours of the Sichuan classic 'dou jiao yu tou' – a dish he grew to love while helming Sichuan Moon in Macau.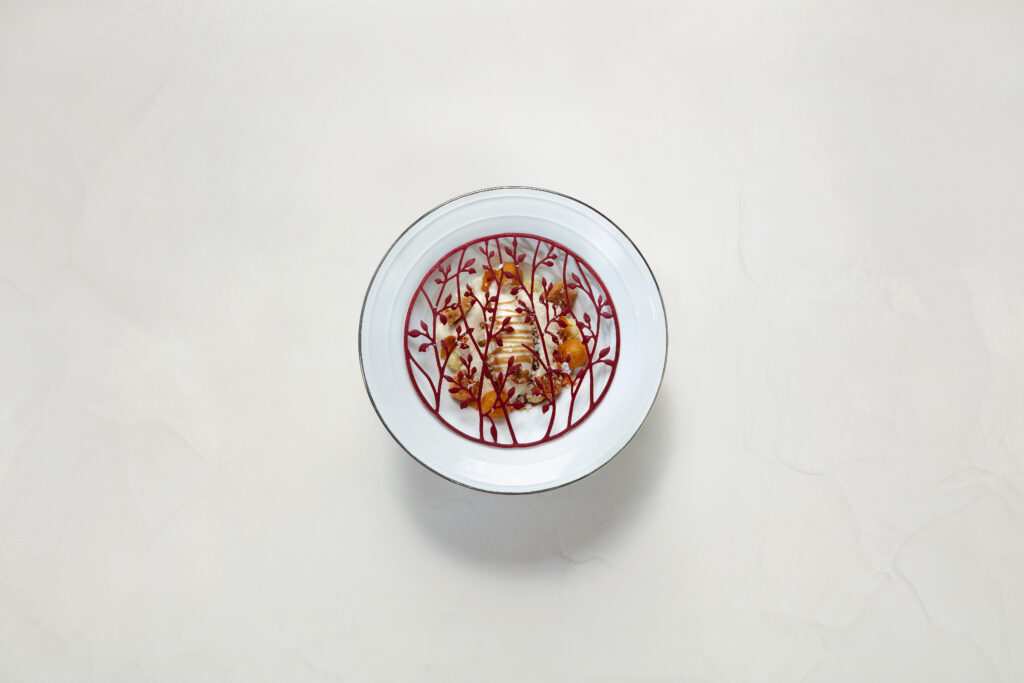 Photo caption: Sweet Potato | Oolong and Sea Salt Dessert |  Photo credit: Restaurant Born
The meal ends on a high note with Sweet Potato / Oolong / Sea Salt, a deftly executed dessert that draws inspiration from Zor's favourite cartoon programme, Doraemon. Spotlighting the many textural possibilities of the root vegetable: as a puree, crisps and even tater tots, this dish is perfectly complemented by an elegant oolong Chantilly, crushed sable, a quenelle of sea salt ice cream, all brought together by a drizzle of burnt butter, and a sprinkle of sea salt flakes. Restaurant Born is only open for dinner, with The Chef's Menu ($368++) offering nine seasonal courses. Wine pairing ($198++) and non-alcoholic pairing ($118++) are available upon request.
Author: Michelle Yee
A content and communications professional, Michelle spent more than a decade creating content for several leading media titles including Lonely Planet Asia, Yahoo Singapore, Wine & Dine. After leaving the media industry in 2019, she has been honing her craft at a global communications agency where she helps develop and drive publicity campaigns for brands in the consumer and corporate sector.