8 Ways SATS Manages Food and Packaging Waste for Airlines
SATS, the provider for food and gateway services for airlines has an ambitious target to halve their food waste. To achieve this they employ artificial intelligence and innovative ideas in food tech.
Share this exclusive content from Saladplate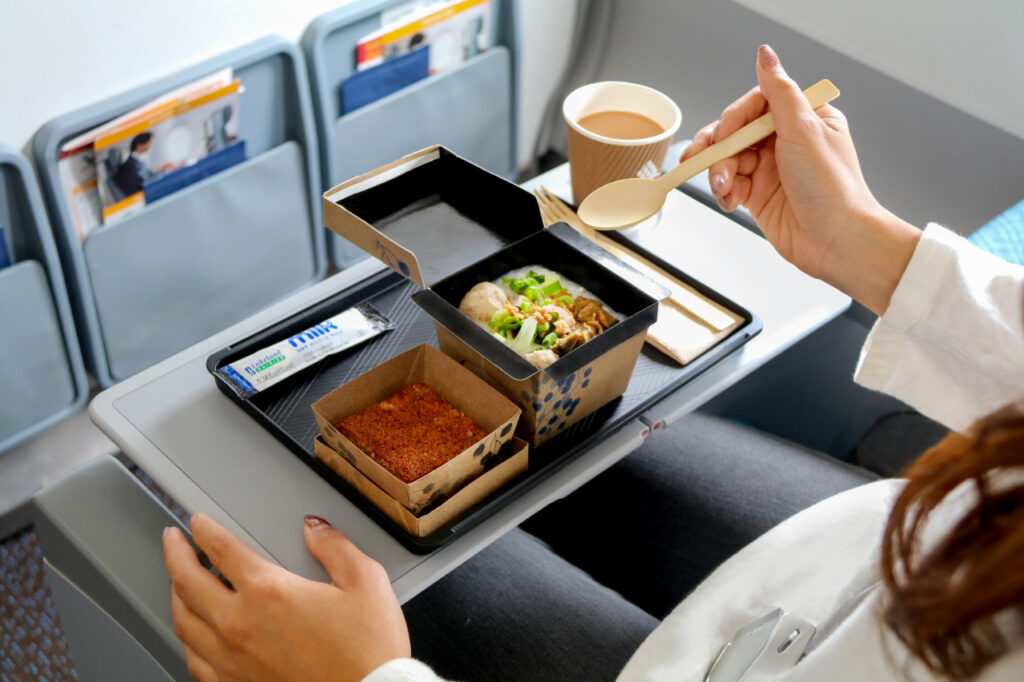 The SATS and Singapore Airlines-approved Doodle Boxes are FSC-approved paper boxes that are more environmentally friendly | Photo Credit: SATS
SATS, Asia's leading food solutions provider, is actively pursuing innovative food technologies and sustainable practices to reduce food and packaging waste.
Specifically, we'll examine how they implement these efforts for the Asian airlines they serve.
SATS has set itself an ambitious goal to halve food waste intensity in all of its operations by 2028. It has also set a target of achieving 100% sustainable food packaging by 2030. Food wastage generated from SATS' Singapore operations alone accounted for about 4% of their total production output.
Food and packaging waste is a serious global issue. It is estimated that 17% of the total global food production – or about 930 million tonnes of food – went to waste in 2019, according to the United Nations Environment Programme's Food Waste Index Report. In the case of airlines, according to estimates from the International Air Transport Association (IATA), the average airline passenger creates 1.4kg of cabin waste, which can include leftover food, plastic wrapping from blankets, or items tossed in the bins, as recently reported in Channel News Asia.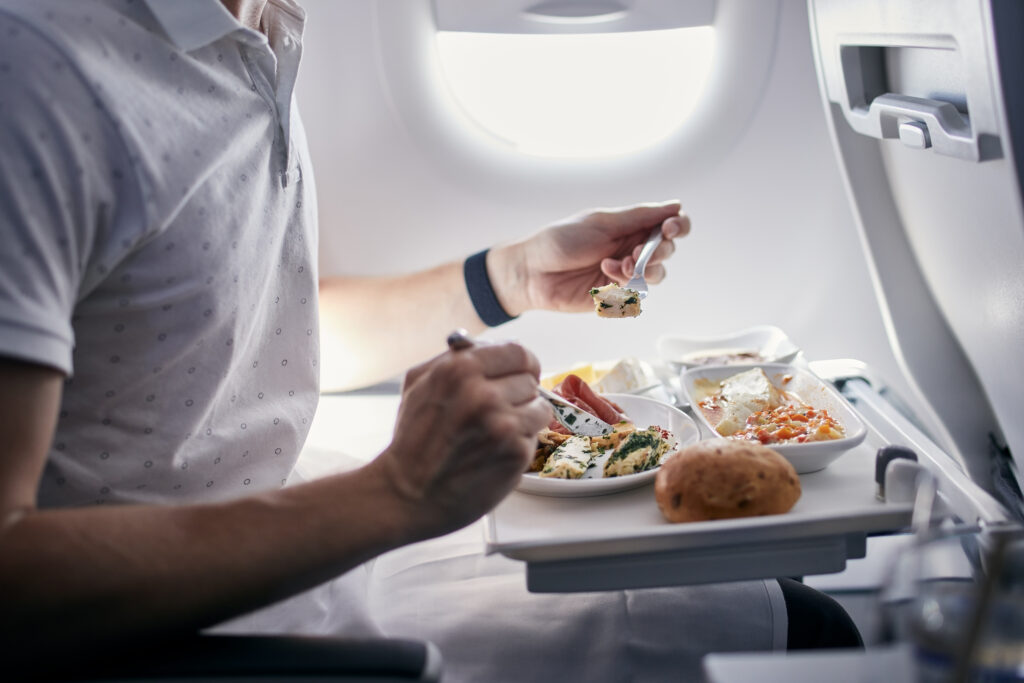 Photo Credit: Envato Elements
To mitigate the problem, SATS has embarked on several initiatives to track its production waste, especially the waste from flights that land in Singapore —where it handles about 80% of all ground handling and catering operations. Here are 8 ways they manage waste and adopt sustainable packaging solutions.
SATS minimises food waste at source through the judicious use of food trimmings. Waste generated from their kitchens is repurposed creatively. Food trimmings from cutting and presentation requirements are blended into their soups and sauces, helping create nutritious meals while also meeting sustainability goals.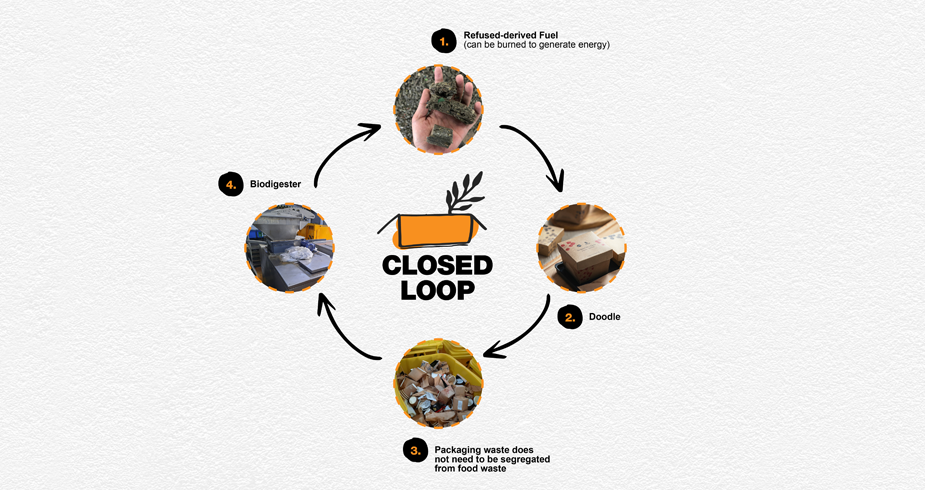 SATS' closed loop system in managing food and packaging waste  | Photo Credit: SATS
SATS is partnering with OCBC Bank in the OCBC Sustainability Innovation Challenge, to pilot innovative market solutions that will help it achieve a closed loop in managing food and packaging waste. SATS has partnered with two start-ups, Enexor and Tria, to help process the mixed waste stream from inbound flights without it having to be segregated. This is helping both time management and logistics. They have initiated a proof-of-concept trial for an anaerobic digestion system at its catering facility in Singapore that can convert waste to three different forms of energy: biogas, waste heat and digestate by-products.
It uses artificial intelligence to track its waste. The system is trained to learn and recognise different types of waste. Through data analytics, SATS can monitor the reasons for wastage, for example, spoilage, over-production or expiry and can adjust demand planning and material sourcing accordingly.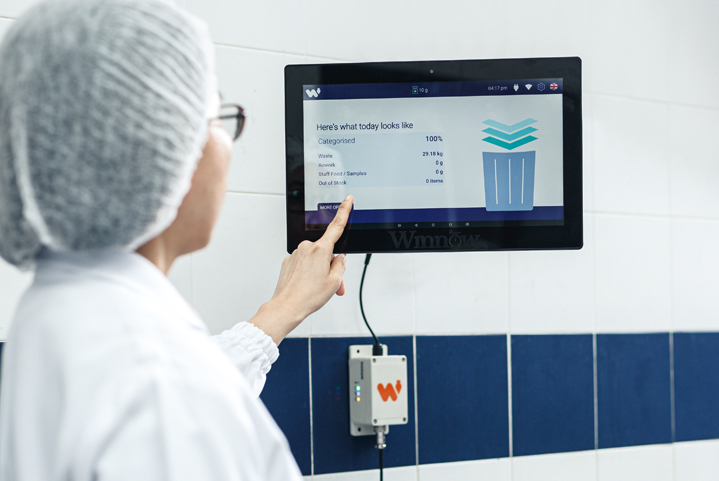 SATS uses AI to track food waste and its causes | Photo Credit: SATS
On the packaging front, SATS in China has switched to using biodegradable cutlery for all domestic flights. For its catering services, it has also collaborated with Singapore Airlines to use locally sourced ingredients to provide socially and environmentally friendly offerings.
In Maldives, the inflight catering kitchen has implemented a waste management initiative to segregate organic food waste to be repurposed as fertiliser. In Hong Kong, its unit has engaged a refuse collection vendor to segregate and recycle waste off-site.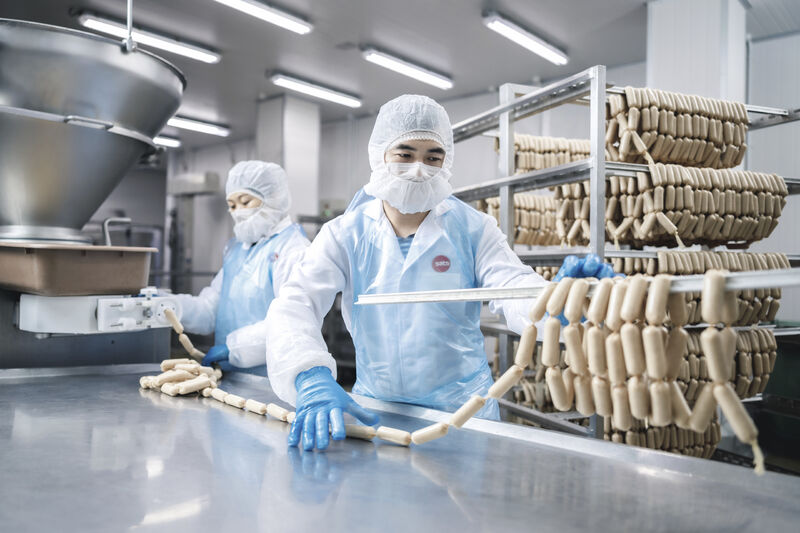 SATS partnered with Hilton Food Group Plc. to boost its operational efficiency and sustainable protein packaging capabilities. Stanley Goh, chief executive officer of food solutions at SATS, said, "Increasingly, customers are demanding packaging solutions that are sustainable. Hilton Foods is the best-in-class partner with the know-how and technology to drive scale and productivity in large-scale protein processing. They have the capability to produce packaging that does not require the separation of recycling materials, and packaging for chilled proteins that do not need soaker pads. That eliminates a lot of packaging waste. We believe this partnership will help SATS advance our sustainability goals."
SATS and Singapore Airlines have designed environmentally better "Doodle Boxes" to replace plastic casserole dishes on some flights. These FSC-approved paper boxes allow for soupy or gravy-rich dishes to be served. "Made of paper, the new meal concept not only saves weight but also sees a reduction of single-use plastics, thereby reducing the carbon footprint." Bellamy Oon, Key Account Management for SATS.
SATS has been at the forefront of driving sustainability across all its verticals and is integrated into its business strategy. Learn more about all of their environmental initiatives via their latest sustainability report. 
Author: Pooja Thakur
Pooja Thakur is a senior journalist, writer, and editor with over 20 years of experience in print and digital media and in creating custom content for periodicals. She has been a long-serving senior reporter at Bloomberg News covering areas such as real estate, stocks and personal finance and inventing across markets with a focus on Southeast Asia and India. In her free time, she enjoys scuba diving, rucking and finding the newest watering hole in town.