Asia-Pacific food & beverage industry strives to adapt to persistently high inflation
The rising cost of living is taking a toll on the Asia-Pacific economy and society. Food and beverage manufacturers are struggling to cope with volatile input costs and falling consumer spending.
Share this exclusive content from Saladplate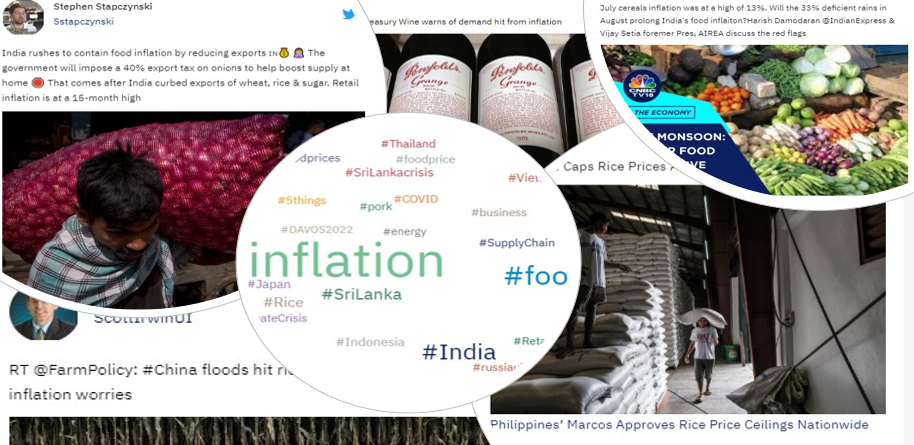 Source: GlobalData Consumer Intelligence Center ­– Social Media Analytics
Rising cost of living escalates into a major economic, social, and political issue across the Asia-Pacific
The COVID-19 outbreak in 2020 brought mixed fortunes to food and beverage manufacturers in the Asia-Pacific (APAC). The pantry loading behaviour during the lockdowns spurred sales of essential goods, such as bottled water and cereals. The increasing trend to cook at home bolstered the demand for sauces, spreads, dressings, and condiments; pasta and noodles; dried, frozen, and canned food; and ready-to-cook foods. Baked goods, confectionery, and savoury snacks sales also surged as remote work and education gave rise to new snacking occasions. However, the lower consumer footfall and rushed purchases due to the hygiene protocols stifled impulse purchases of non-essential goods.
Consumer footfall in food and grocery retail stores across the Asia-Pacific surged in 2021 and 2022 as governments lifted the pandemic restrictions. However, the Russia–Ukraine conflict erupted inearly 2022, disrupting global supply chains, and escalating raw materials, fuel, and electricity prices. Food and beverage manufacturers were simultaneously hit by production and transportation costs and the shortage of ingredients and packaging materials in 2022. Many of the supply chain bottlenecks have been resolved and average annual inflation has trended downward in the first half of 2023.
However, fresh food prices are volatile due to the fluid geopolitical and international trade dynamics, and the impact of climate change on agricultural output. Extreme weather conditions due to the El Nino phenomenon has led to the widespread destruction of staple crops, such as cereals, vegetables, and oil seeds. Overfishing has led to falling marine catch and sporadic disease outbreaks weighing down cattle and poultry farmers. Spiralling food inflation has widened the region's poverty gap. Faced with rising public unrest and media buzz over the worsening cost-of-living crisis, The Malaysian, Indonesia, and Indian governments have imposed price controls and export bans on essential goods, such as rice, palm oil, onions, tomatoes, and potatoes. The export restrictions are in turn further amplifying global food inflation crisis.
Food and beverage manufacturers are under pressure to streamline costs and hike product prices to prop up revenues
Food and beverage manufacturers are revamping their supply chain models, production processes, and pricing strategies to sustain flailing revenues in this new normal. Many are adopting advanced technologies, such as blockchain, artificial intelligence, and automation to cut end-to-end costs. Despite these measures, most manufacturers have raised prices to offset their rising ingredient, production, wage, transportation, and storage costs. Moreover, major wholesalers and retail chain operators are demanding higher margins to compensate their rising labour and energy costs.
GlobalData's Online Price Intelligence reveals the volatility in online retail prices of food and beverages among top retailers in the Asia Pacific. The prices of cookies, chocolates, sugar confectionery, juice, and milk increased significantly over the 30-day period from mid-August to mid-September. Prices of condiment sauces, chilled raw processed packaged meat, and cheese prices decreased during the same time period.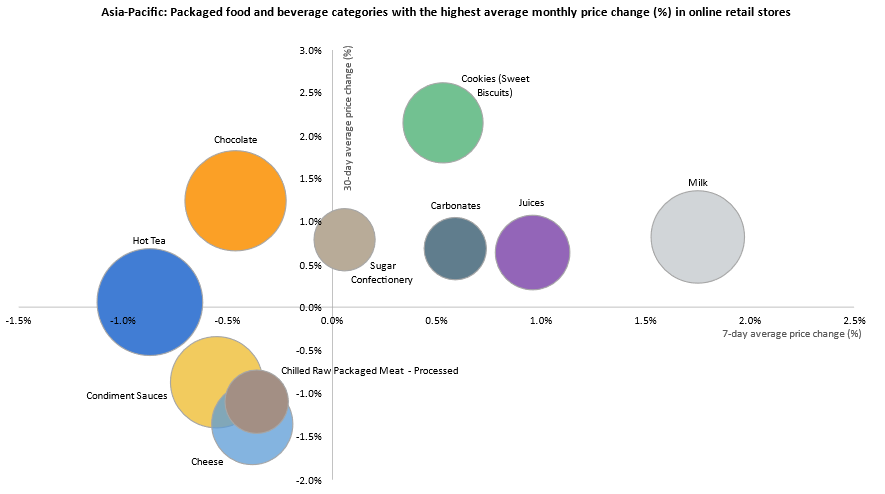 Source: GlobalData Consumer Intelligence Center ­– Online price Intelligence, accessed in September 2023
However, manufacturers realize that such price spikes can ward off price-sensitive consumers. For instance, Australian consumers recently began voicing complaints about the perceived excessive price hikes in the name of inflation, termed "excuseflation", to support the profit margins of producers and retailers. To prop up profit margins, top manufacturers are also resorting to "hidden" pricing strategies, such as skimpflation and shrinkflation. However, once consumers realize they are getting less product for their money, these companies stand to lose brand goodwill.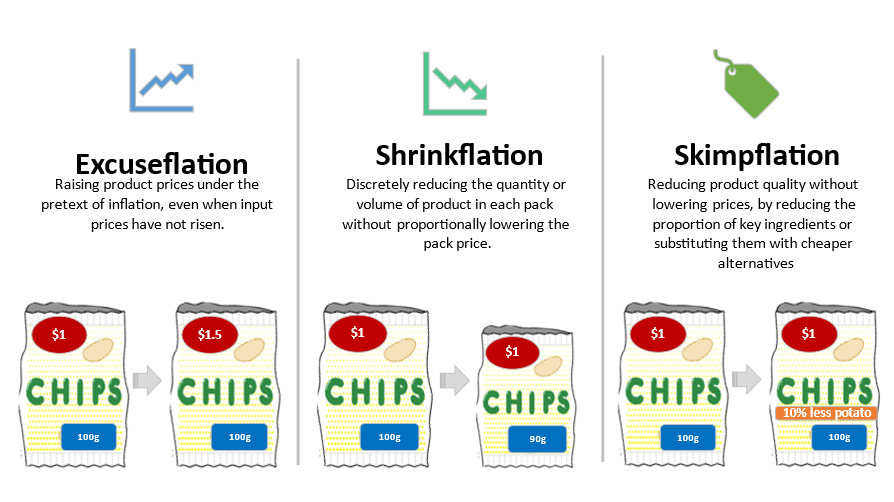 Customer loyalty is waning as consumers switch to value brands and labels
With food and fuel inflation squeezing their purchasing power, low-income households are becoming more price-sensitive. They are tightening their purse strings by curbing their spending on non-essentials. Customer loyalty is waning as shoppers hunt for bargains and discounts or switch to cheaper retail outlets and cheaper brands and private labels. GlobalData's Q2 2023 survey revealed that only 31% of APAC consumer are sticking to their regular brands, even if they are buying less.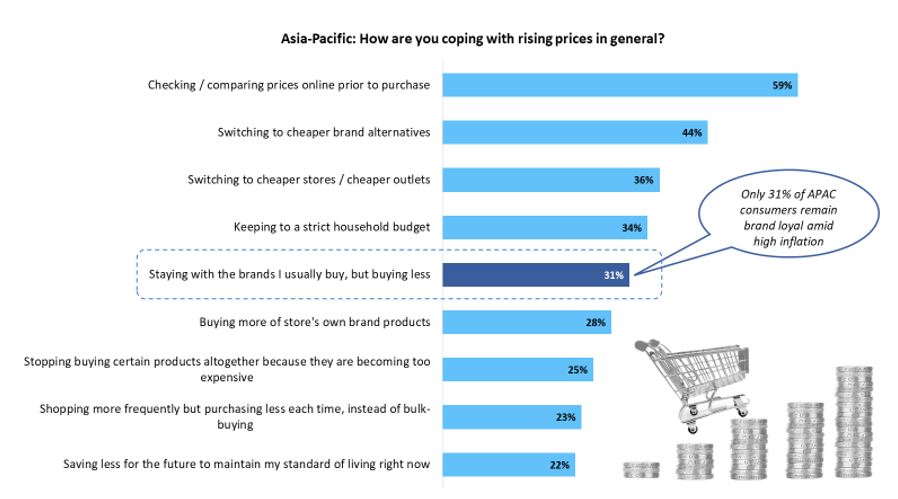 Source: GlobalData 2023 Q2 Consumer Survey –Asia & Australasia, with 6,438 respondents, published in August 2023  
Creative pricing strategies are key to targeting consumers at both ends of the price spectrum
Even as the inflationary pressures ease, shoppers are expected to remain price-sensitive for some more time. Mass retail brands and private labels can boost their volume sales through bulk discount packs and product bundles, and float loyalty point schemes to keep consumers tied to them. Premium food and beverage makers can roll out smaller pack sizes positioned as pocket-friendly indulgences for thrifty shoppers or adopt a high-low pricing strategy by keeping their prices constant and rolling out special discounts on festivals and events to attract bargain hunters. Companies can also introduce separate value-for-money brands or labels targeting cost-conscious shoppers and upmarket labels or variants targeting affluent shoppers. Manufacturers need to shift the focus of these discerning consumers from the price tags to the added value of their products. The value addition can be in the form of customized formulations and packaging or an enhanced product experience.
Consumer Analyst at GlobalData
Source: GlobalData Consumer Insights