Food For Thought – How Food Industry By-Products Are Being Recycled By Asian Beauty Brands
As sustainability gains traction across industries, these beauty brands have found a way to harness the power of discarded products from the food industry and turn them into something beautiful.
Share this exclusive content from Saladplate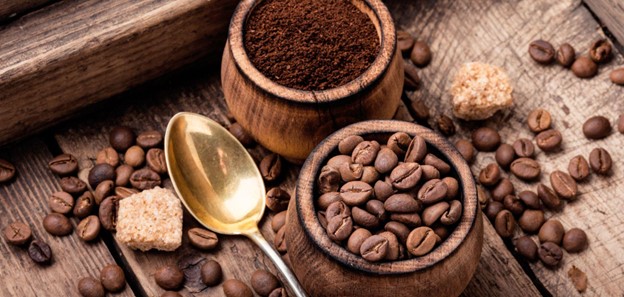 Used coffee grounds can be upcycled into beauty products | Photo Credit: By Nikolaydonetsk/ Envato Elements
According to the Boston Consulting Group (BCG), over a third of all food produced is lost or wasted each year. A third of that occurs in the food production stage as a result of agricultural processes, food safety standards or even consumer preferences (research has shown that produce buyers tend to avoid "ugly produce," even if they are perfectly edible). A report by Greenly.institute, a consulting firm that helps companies reduce their carbon footprint, noted that up to a fifth of edible produce that has surface blemishes, grows in unfamiliar shapes or has unique colouration gets discarded at grocery stores.
These are just some of the sources of food waste across the globe.
A surprising source to mitigate this issue is the beauty industry. From unwanted fruit seeds to coffee grounds, eco-conscious brands in the beauty industry have begun to upcycle these food industry by-products into their own.
This is a relatively new development but a timely one.
Reports have shown that beauty buyers are becoming increasingly conscious and more aware of the importance of knowing where their favourite brands are sourcing their ingredients from. A report from sustainable technology agency Provenance in 2022 stated that 40 per cent of shoppers think waste is an important consideration. 25 per cent of shoppers are also looking to buy items that have less of an environmental impact.
UpCircle, a UK-based skincare line, has become very much the gold standard for upcycling food waste products. Using up to 20 different by-product ingredients, including coffee, tea, argan, juice, date and olive, in their products, which are sold in 40 countries. Here in Asia, a few brands are pioneering the upcycling process —here's how they're doing it.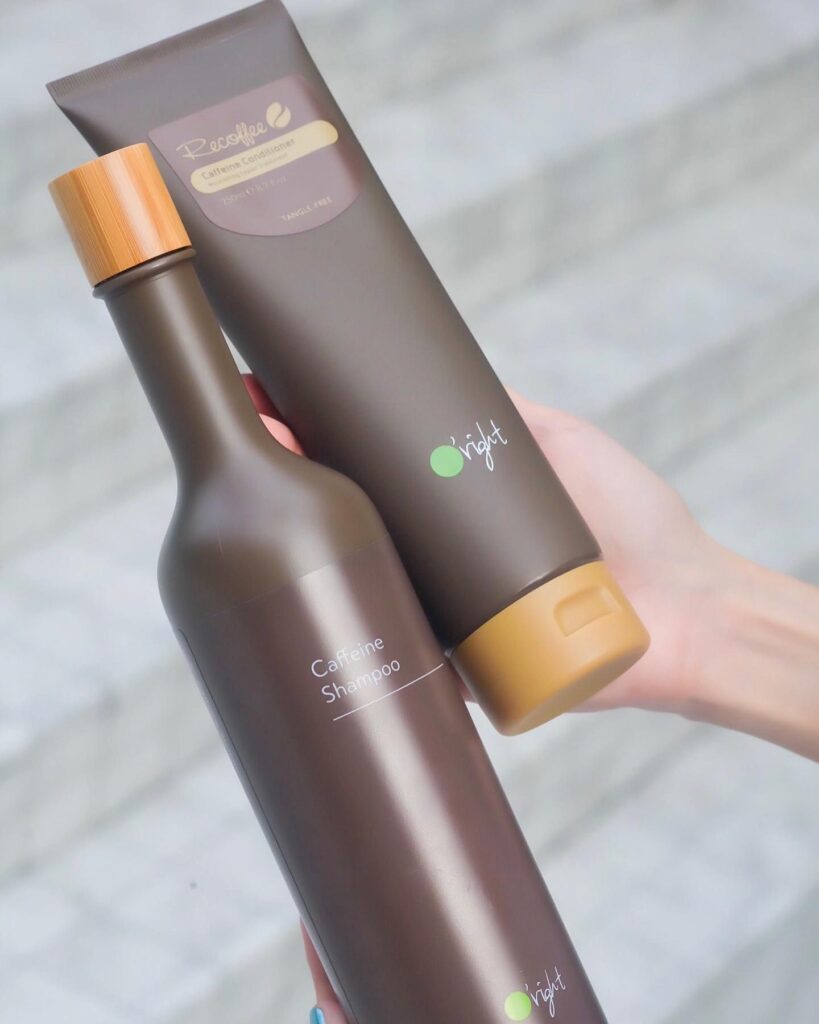 Founded in 2001, O'right has been stringently committed to balancing its commitment to nature with creating sustainable beauty products. One such way is by creating a formula for coffee oils using coffee grounds to design a biodegradable and compostable bottle. This award-winning design called "Recoffee in the Bottle" won a gold medal and a special medal at IPEX and Red Dot Awards in 2014 for packaging and social responsibility.
In its 2021 sustainability report, the brand also states that it holds Asia's inaugural GMP (Good Manufacturing Practices) green cosmetics facility and through development and innovation agricultural waste such as coffee grounds, coffee husks, pineapple skin and goji berry root are also utilised in their vast product line. The brand is present in 40 countries, including China, Korea, and Japan, with 7,000 salons, 23 stores, and 5 e-commerce platforms. O'right demonstrates that embracing sustainability isn't a financial burden. Even amidst the Covid-19 pandemic, the company achieved an 8.7% revenue growth in 2021.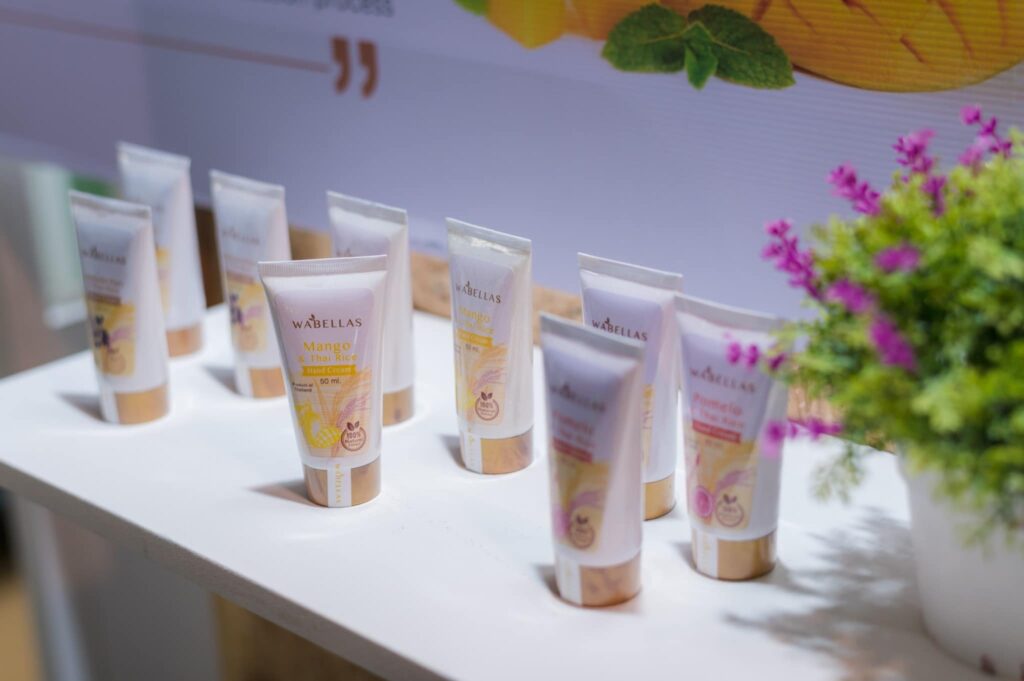 Wabellas is located in Phichit province where farming is a major industry. Most income from the province comes from rice, which generates waste in the form of broken rice and rice germ. Wabellas takes these by-products and uses them to create rice scrubs – the brand's first product. In an interview with Cosmetic Design Asia, founder Phritchada Sriniang said, "We wanted to alter the unwanted resources from local productions such as rice germ, mango seeds and pomelo seeds. They mostly end up in a landfill but we felt like we could use those valuable resources for something else." The brand buys the broken rice and rice germ from the farmers, giving them an income and resulting in less wastage of raw materials.
Wabellas also works with Naureusuan University to transform other waste into products. Besides the Jasmine Rice used in their Scrub & Cream, they use by-products from Tha Khoi Pomelo and Barracuda Mango, both farmed in the region. Pomelo oil is extracted from the peel of the pomelo, while mango seeds are used in other products.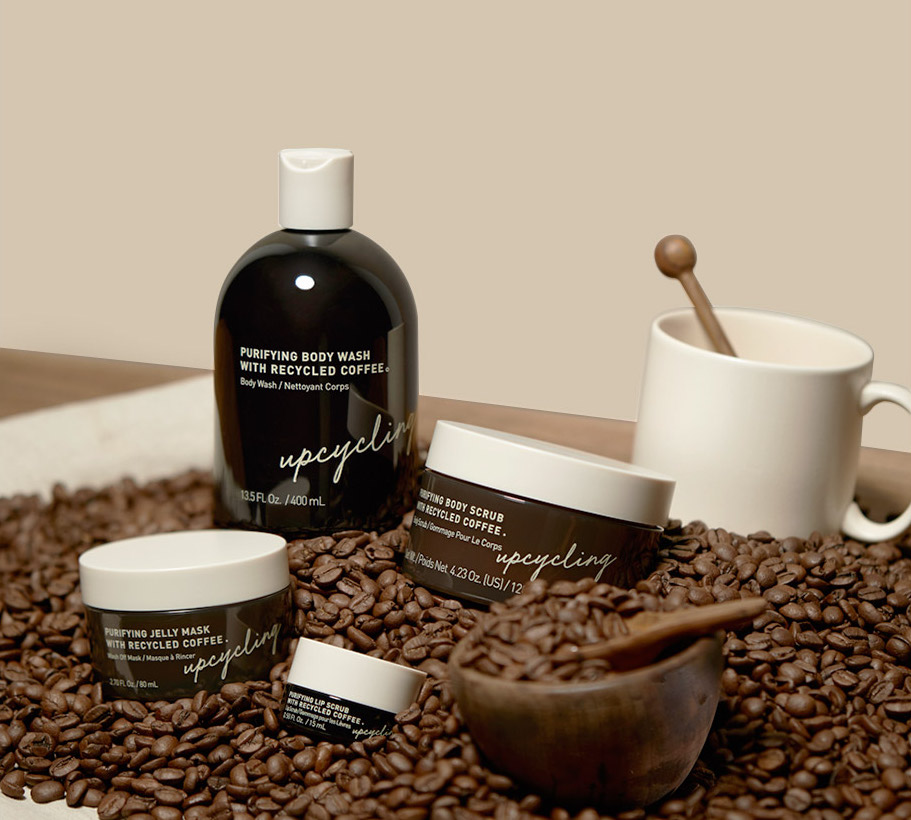 In 2019, South-Korean brand Innisfree produced a limited-edition, Recycled Coffee Collection, made using coffee grounds collected from the brand's Green Cafe in Jeju. In South Korea, where cafe culture is rampant, 270,000 tonnes of coffee grounds are disposed of annually as waste. To create ingredients for this limited edition line, Innisfree used coffee grounds taken from the brand's Green Cafe at Jeju House, a place where customers could visit to experience the brand. After collecting the coffee grounds, they were transformed into ingredients such as coffee powder and oil to use in the line's Purifying Body Wash, Purifying Lip Scrub and Purifying Jelly Mask.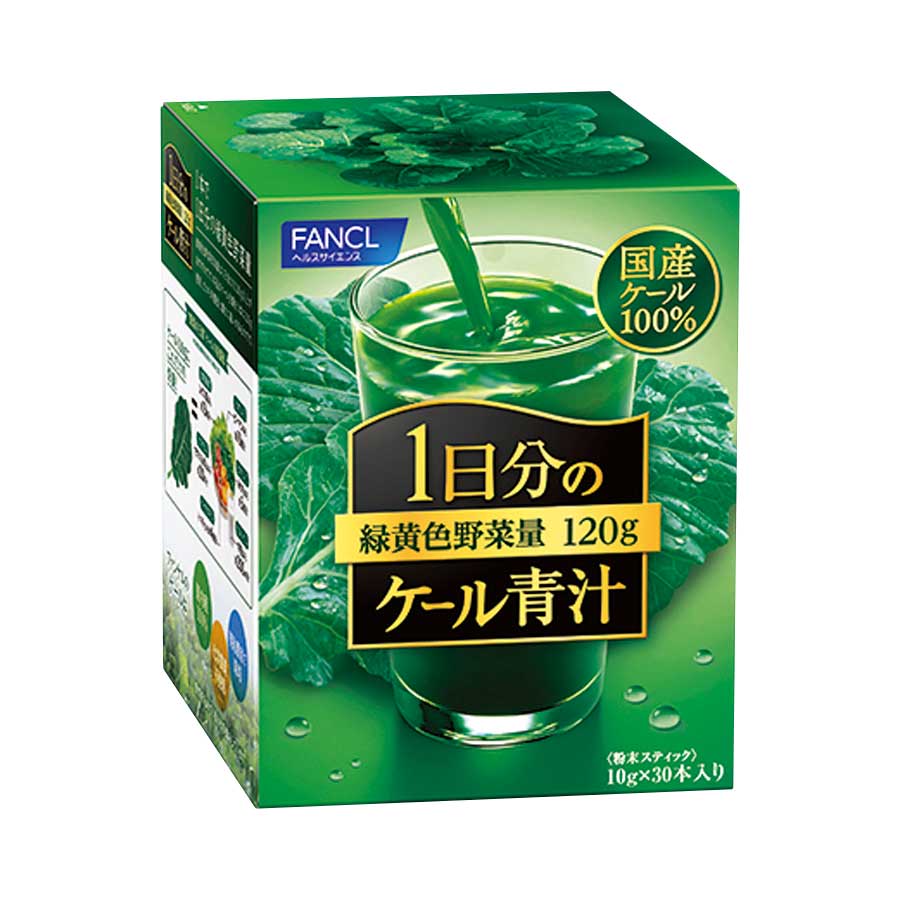 In a case in which the beauty industry created a food by-product which could be recycled, FANCL in Japan found a way to use waste productively and beneficially. Known for its preservative-free beauty products, FANCL is also famous for its supplements which focus on the healthy side of beauty. Their Aojiru Premium Kale Green Juice Powder uses 120g of domestic Japanese kale in each sachet which can be taken by anyone —including children and pregnant women as it is rich in antioxidants.
Producing kale juice generates substantial waste. FANCL researched repurposing kale dregs in cattle feed due to Ehime prefecture's robust farming. After two years, they successfully transformed kale by-products into premium cattle feed. This cycle then allows the cow manure to fertilise kale fields. The Ehime Prefecture certified it as a top-tier resource recycling approach.
There is potential for this system of upcycling and recycling to grow by leaps and bounds if consumers exercise a preference for such sustainably manufactured products. This circular practice also opens avenues for food and farming industries to seek out brands that can effectively repurpose waste products and reduce environmental impact for all.
Author: Karen Fong
Karen Fong is a Singapore-based writer and editor who has previously spent time in Hong Kong, Shanghai and Canada.She writes parenting, lifestyle and travel content and has worked with publications including The Singapore Women's Weekly. DestinAsian, Travel+Leisure Southeast Asia and Prestige Hong Kong.