How does ecoSPIRITS, the world's first low-carbon, low-waste spirits distribution technology, work?
The ecoTOTE™ can contain the equivalent of six glass bottles of spirits or wine. It is designed to eliminate up to 1,000 single-use glass bottles over a lifespan of five to seven years.
Share this exclusive content from Saladplate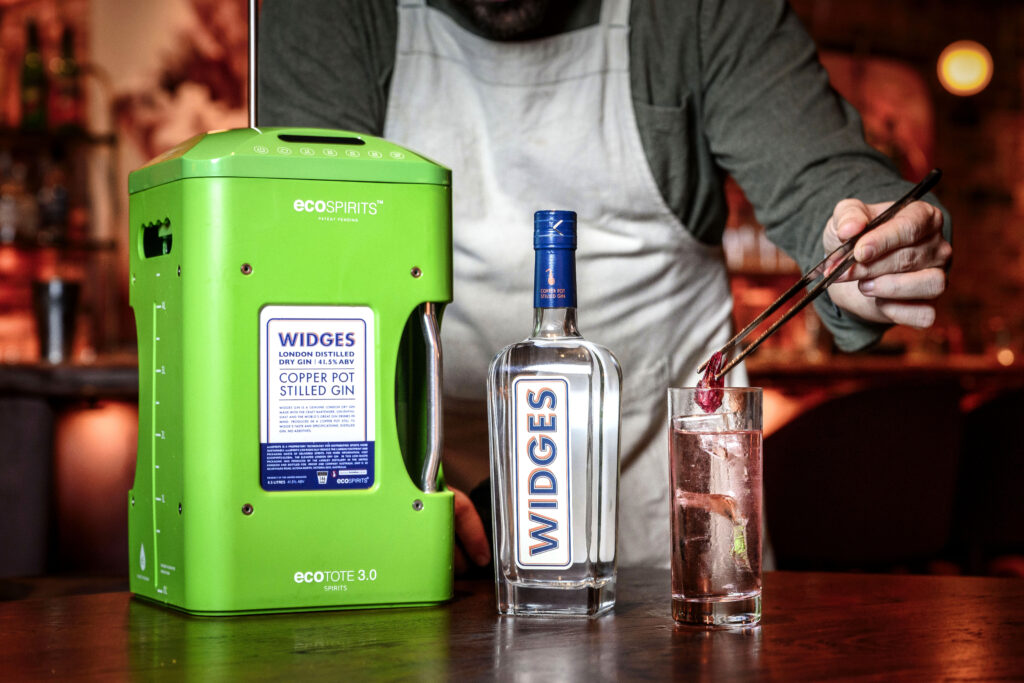 Photo caption: SmartPour 1.1S, Hinchcliffe House, Sydney, Australia (Widges Gin) | Photo credit: ecoSPIRITS
Global production of glass bottles and containers reached nearly 690 billion units in 2020, with wine and spirits bottles making a significant contribution to this total. According to the global data and business intelligence platform Statista, this number is expected to grow to 916 billion units by 2028. Given the low glass recycling rates in many countries, we can safely assume that much of this glass ends up in landfills.
Co-founder and director of Proof & Company —Asia Pacific's leading spirits importers and distributors—Paul Gabie became aware of the fact that single-use glass is one of the biggest sources of waste and carbon emissions in the industry. "We founded ecoSPIRITS in 2018 with the aim of developing the world's first closed-loop packaging technology for premium spirits and wine," Gabie tells Saladplate. Their mission: to end single-use glass by leading the spirits and wine industry—brands, importers, distributors, wholesalers, venues, and retailers—on a transition to circular packaging technology.
Named one of the 500 Fastest Growing Companies in Asia Pacific by the Financial Times in 2020, Proof & Company operates in Singapore, Australia, New Zealand and China.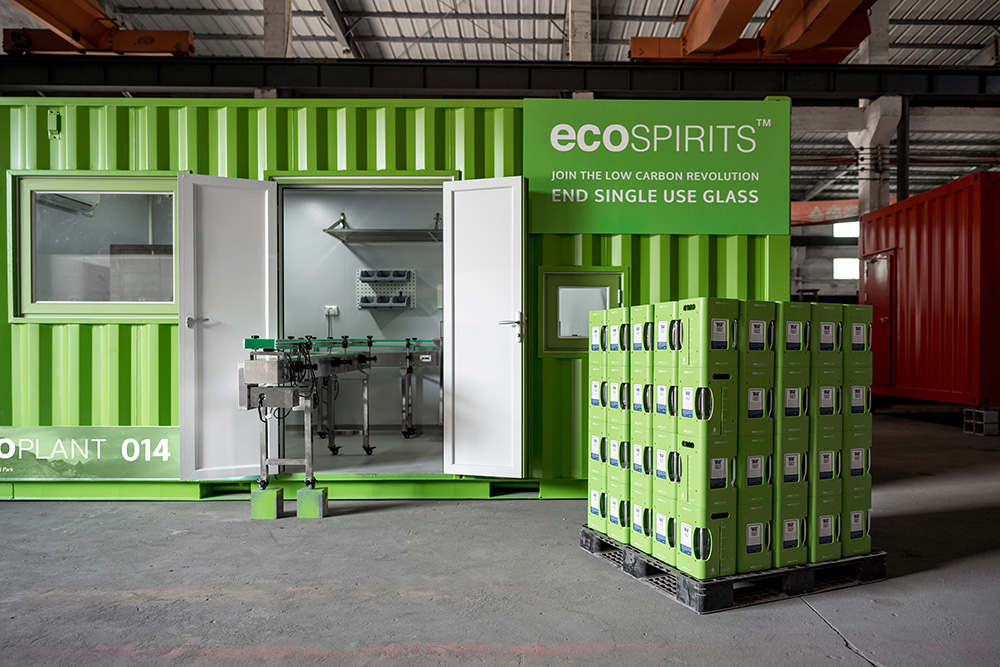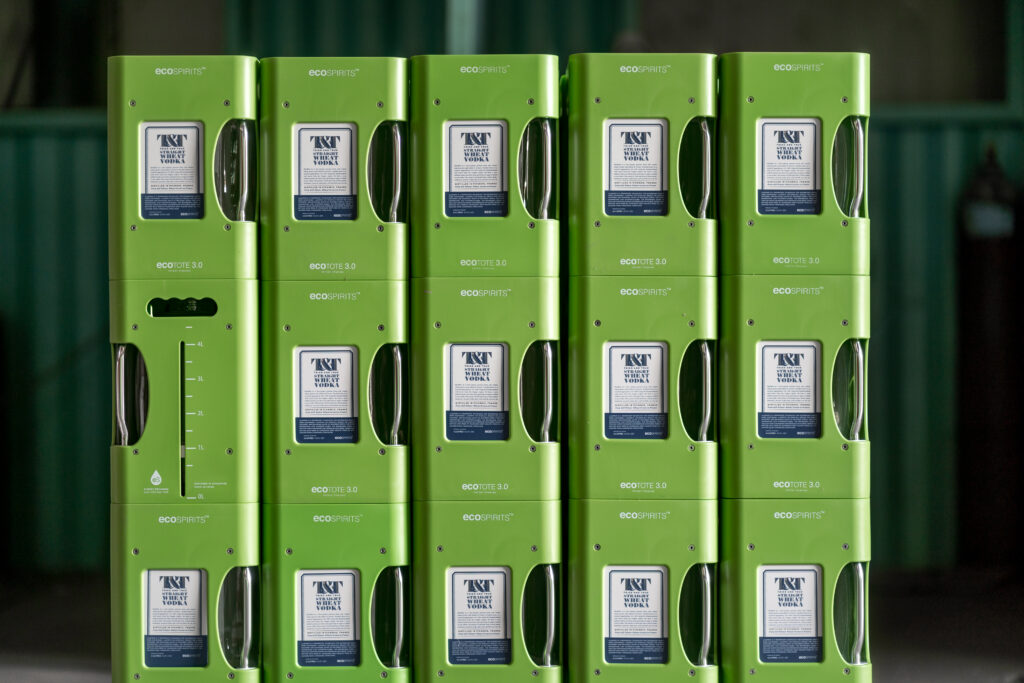 Photo caption: EcoTOTE 3.0 at a bottling facility | Photo credit: ecoSPIRITS
How does ecoSPIRITS work?
"Our system allows spirits and wines to be transported in bulk from the country of origin to local markets where they are processed into a fully reusable ecoTOTE™ format for delivery to the on-trade," explains Gabie. "Once in the venue, spirits and wines are transferred from ecoTOTE™ to serving format using the SmartPour™ technology. Once empty, these are returned to an ecoPLANT™, where they are sanitised, refilled, and sealed. Used all together, the ecoSPIRITS system fully replaces the traditional single-use glass bottle." He assures that the system protects both the liquid integrity and the consumer brand experience.
Each ecoTOTE™ contains the equivalent of six glass bottles of spirits or wine. It is designed to eliminate up to 1,000 single-use glass bottles over its lifespan, which is around five to seven years. The bottle is housed within a protective casing that also allows it to be stackable, ensuring optimal space usage.
Overall, the system could reduce the carbon emission footprint of premium spirits and wine packaging and distribution by 60-90% and eliminate more than 95% of the single-use packaging waste, Gabie claims. The circular economy technology company also has an ecoSPIRITS Forest Program, wherein one tree is planted for each cycle of an ecoTOTE™ through the ecoSPIRITS closed-loop network.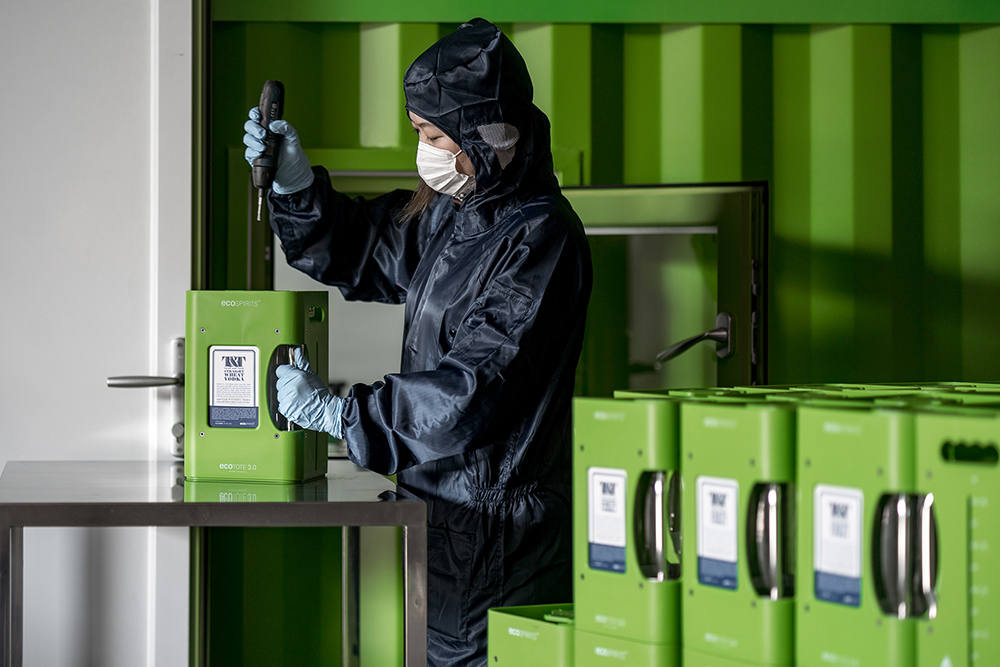 Photo caption: ecoSPIRITS CEO Paul Gabie assures that their system protects both the liquid integrity and the consumer brand experience. | Photo credit: ecoSPIRITS
"Each tree planted is geo-tagged in the name of the partner venue. Using Green Steps Group's proprietary 'proof of impact' technology platform, the program is verified, monitored, and reported through an industry-leading digital record," the CEO offers.
Venue, brand, and distributor partners can likewise enjoy a variety of operational benefits from the technology, adds Gabie, a 30-50% reduction in storage space, 95% less physical glass and cardboard waste, and improved ergonomics and handling.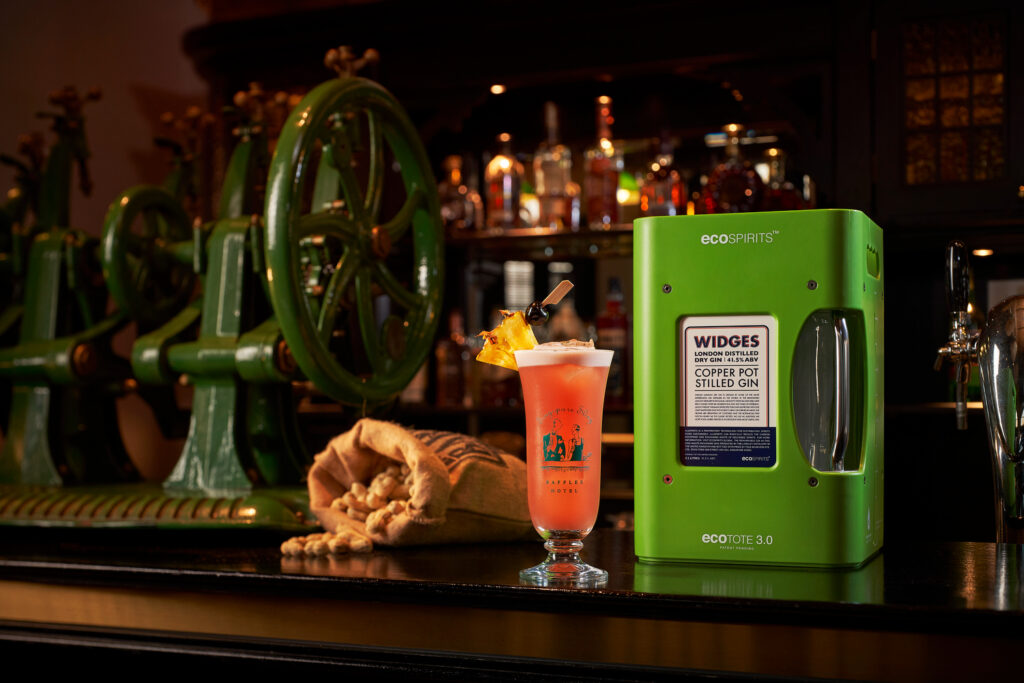 At the time of publishing, almost 2,000 bars, restaurants and hotels have adopted the ecoSPIRITS technology, and the company expects this to more than double in the next 12 months. In Asia these are Rosewood Hotels (including Bangkok and Hong Kong); Raffles Hotel, Singapore; Penicillin (Hong Kong); 28 Hong Kong Street, Singapore; Potato Head, Indonesia; Four Seasons Hotels & Resorts across all of Asia Pacific; Hyatt Regency, Cambodia, and many more.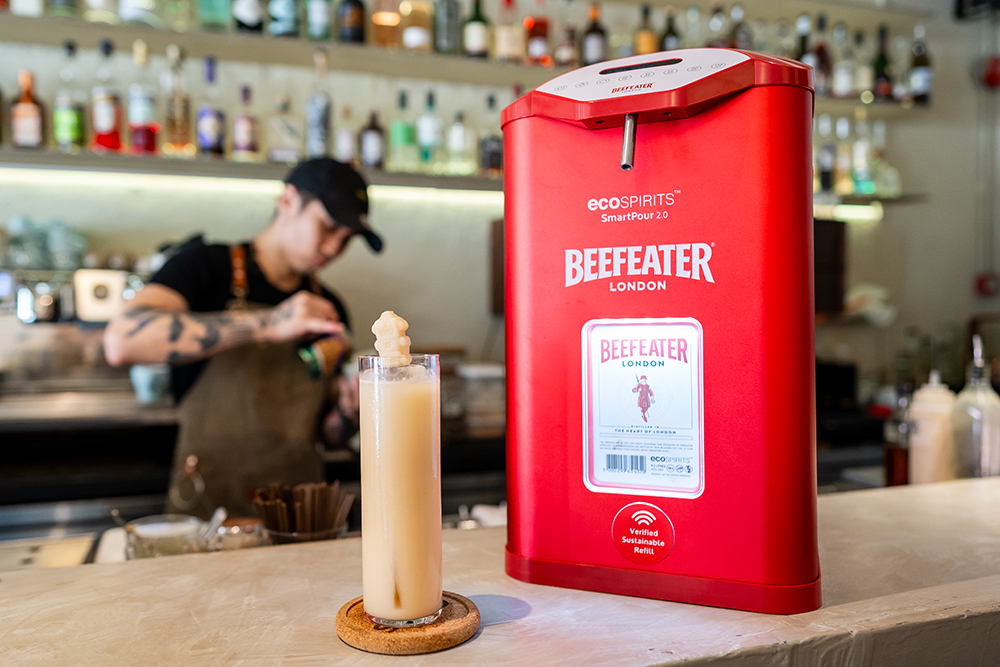 They are also currently working with Pernod Ricard in Singapore, where they have launched Beefeater Gin, Havana Club and Absolut Vodka in ecoTOTE™ format; and with Diageo in Indonesia, where they are working with its Smirnoff Vodka brand in ecoTOTE™ format.
The Singapore-based company has also launched closed-loop service in both California and Florida, as well as in the Netherlands, Macau, Canada and Denmark. "Our technology will be available in 26 countries across Asia Pacific, Europe, and the Americas by the end of the year," says Gabie.
Gabie is happy to share that many exciting projects are underway. ecoSPIRITS has recently entered into the cruise ship sector, in partnership with Bacardi Limited and Carnival Cruise Line, and are hoping to expand their presence in this sector next year.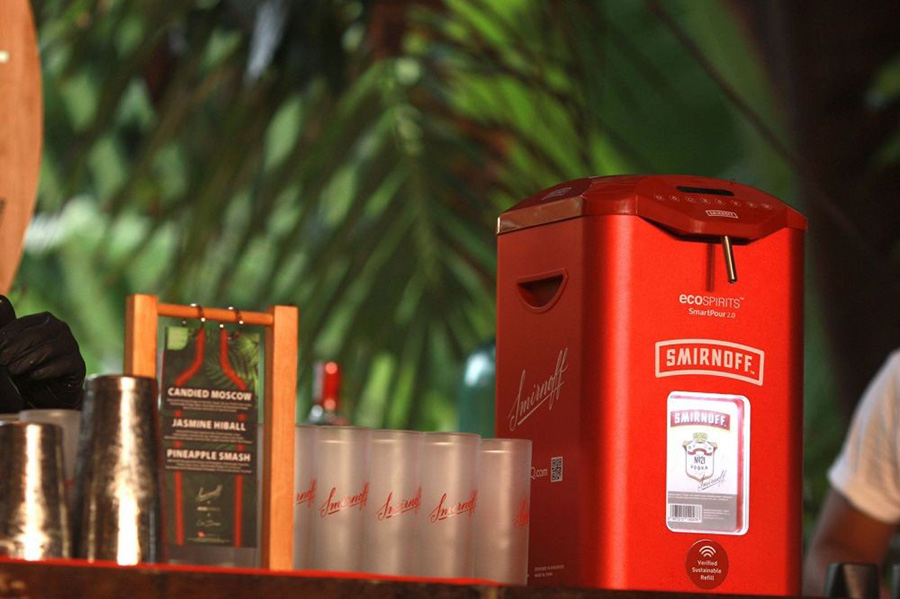 Photo caption: SmartPour 2.0S Smirnoff Edition, La Brisa, Bali, Indonesia | Photo credit: ecoSPIRITS
The company has also designed its own intelligent retail system called SmartKiosk. Currently used in a pilot project in Singapore, "the system allows consumers to refill spirit bottles securely and sustainably in retail environments. It is Wi-Fi enabled and even Windows-powered."
The team at ecoSPIRITS believe that reuse is the most effective way to reduce the environmental impact associated with consumption. "We are convinced that the future is circular. Recycling is good but it is only a partial solution to the problem of single-use glass waste," he says. They believe that the best way to manage the problem of waste is to produce less waste, particularly by eliminating thousands of tons of single-use glass waste and focusing on reuse and the circular economy.
Author: Rhia Grana
Rhia Grana has been a lifestyle journalist in the Philippines for over two decades. She currently works at ANCX, the lifestyle and culture website of ABS-CBN News Channel, a prominent news organization in the country. She's passionate about writing about personalities, culture, trends, health, and travel.