Meet Sam Aisbett: The globetrotting Australian chef putting a gastronomic spotlight on the produce of Vietnam
In his Saigon restaurant Akuna, multi-awarded Aisbett spotlights Vietnamese ingredients and food culture.
Share this exclusive content from Saladplate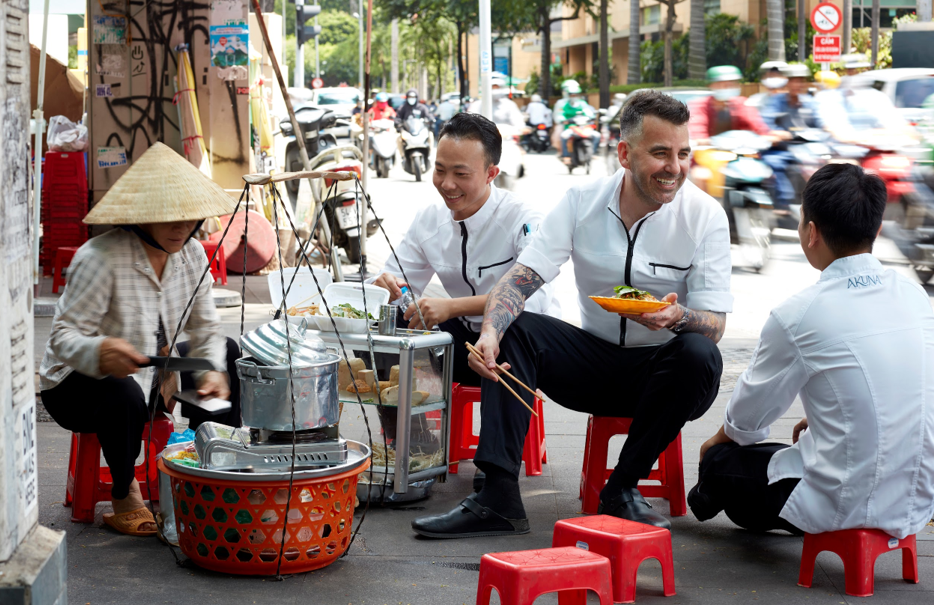 One cannot define Sam Aisbett's cooking by any region or style. In a career that spans over 20 years, 4 countries and a myriad of gathered experiences, his food philosophy has taken on an edgy, 'no-rules' approach. In his current stint in Ho Chi Minh City, Vietnam, he champions local produce and flavours, while remaining 'authentically Aisbett' in his style of cooking.
Aisbett has called Saigon home for the past three years. While his varied life experiences do find their way into his menus, he actively draws inspiration from the creative possibilities found in Vietnam's culinary landscape. At Akuna— the impressive 4300 sqf, tasting menu-only restaurant at the Le Meridien Saigon—guests can expect indigenous ingredients, local herbs and spices, rare flavours and cultural references from his adoptive home — many of which are presented on a fine dining menu for the very first time.
Australian-born Aisbett's culinary journey began with various roles across Queensland, Brisbane, and the Gold Coast. He then found his way to Peter Gilmore's Quay in Sydney, where he rose to Head Chef, earning restaurant accolades such as a place on the World's 50 Best Restaurants list and Three Hats in The Sydney Morning Herald Good Food Guide. He has also refined his skills at Tetsuya Wakuda's eponymous restaurant, which allowed him to incorporate Japanese influences into his repertoire. Most recently, he ran the kitchens at Whitegrass in Singapore, achieving recognition on Asia's 50 Best Restaurants list and winning three consecutive MICHELIN Stars.
"I want the world to see the culinary possibilities I see in Vietnam. In my time here I have tasted, sampled and cooked with amazing ingredients" says Aisbett. He often talks of being captivated by the 'beautiful chaos' of Ho Chi Minh City, and his decision to drop anchor in Saigon.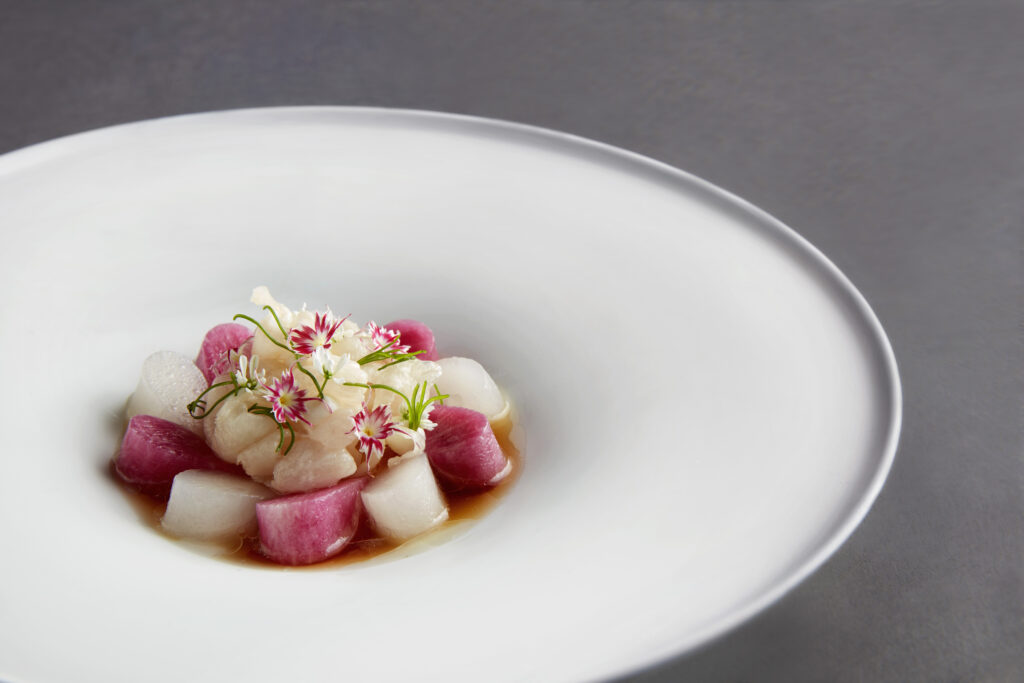 Aisbett's Saltwater Crocodile, Broken Rice Porridge And Shoyuzuke | Photo Credit: Akuna
Akuna opened its doors in July 2023, at the Le Meridien Saigon in Ho Chi Minh City's exciting District 1 area. Aisbett's authentic brand of cooking and creative renditions of Vietnamese flavours have found favour with the city's gastronomes and lovers of fine food. Legendary Vietnamese Chef and TV Personality Luke Nguyen even took to his personal Instagram account to laud Aisbett as 'The best chef in Vietnam'.
On Akuna's five and seven-course tasting menus expect dishes such as the Fresh Milk Curd With Snap Peas And Buffalo Tail Consommé, which makes use of local cow's milk from Phu Dong as well as local buffalo's tails and is a dish that pays homage to Vietnamese soybean curd. The Smoked Australian Free Range Pork Jowl comes together with a poured-over broth enhanced with dried sandworms or 'sa sung', which is reminiscent of the umami Northern Vietnamese pho. There's more, guests are treated to a spiky, orange-reddish melon called gac fruit, where its flesh and seeds are used to make xôi gấc, a red sticky rice eaten during weddings and special occasions, as well as various parts of a locally farmed saltwater crocodile are used to create the Saltwater Crocodile, Broken Rice Porridge And Shoyuzuke. Aisbett is putting these lesser-known ingredients and locally farmed produce on plates that can hold their own on a global stage, allowing Vietnam's foodies and gourmet travellers to sample the culinary bounty the country produces.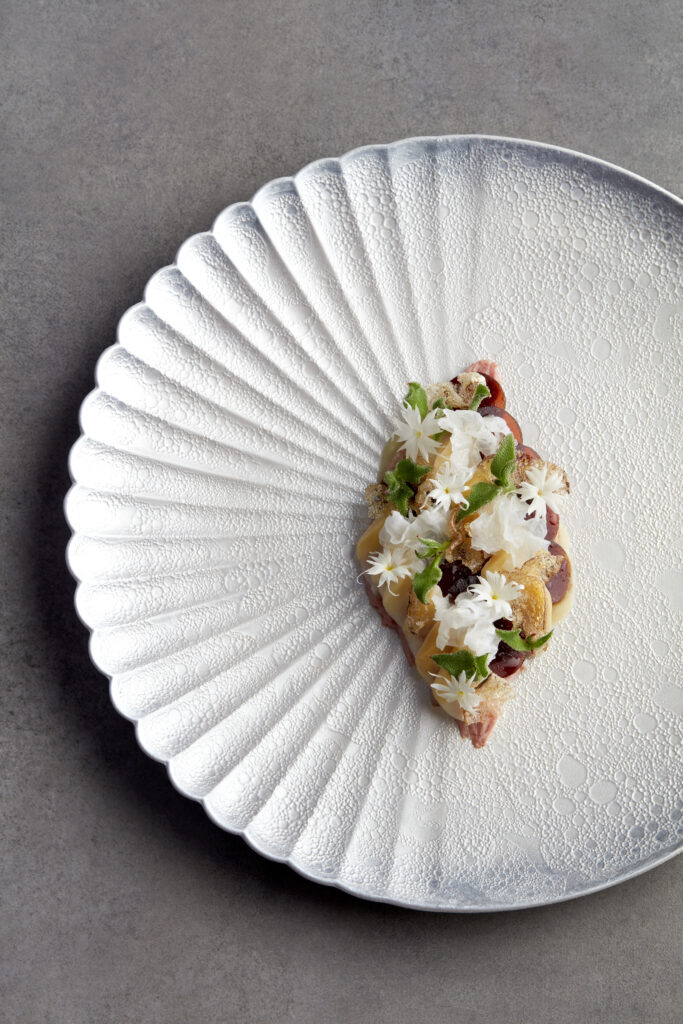 "Culinary inspiration is everywhere in Vietnam, from the people and produce to the food culture and norms".
Aisbett often endeavours to discover underrated produce gems from the farmers and producers around Ho Chi Minh City. A recent trip saw him In the heart of Phan Thiet, on a wild honey-foraging trip allowing him a taste of pure Vietnamese wild honey and fodder for future culinary inspiration. In the past, a humble serving of braised goose in Thế Giới Ngan restaurant in Hanoi became the inspiration for his dish Red Braised Goose, Venus Clams; where the key ingredients are locally sourced and lend unmistakeable flavour to a beautiful preparation accentuated with sea cucumber crisps, edible flowers and Japanese ice plant.
Inspired by a local Vietnamese braised goose dish, Aisbett's creation is Red Braised Goose, Venus Clams | | Photo Credit: Akuna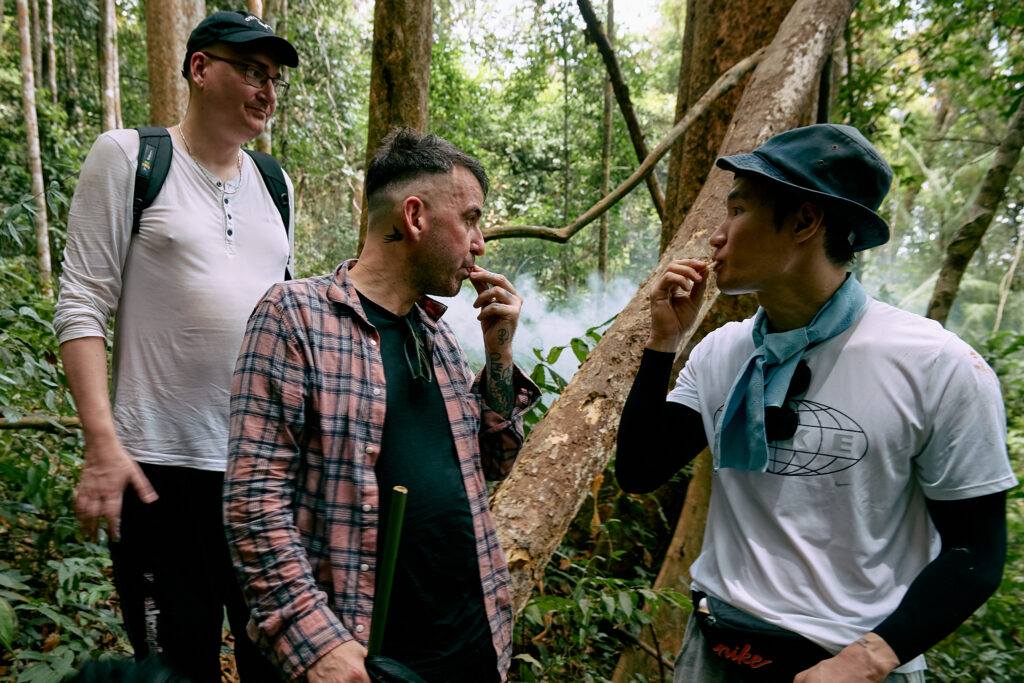 Sam Aisbett on a  wild honey-foraging trip in Pan Thiet, a coastal port city in Southeast Vietnam. | Photo Credit: Akuna
Vietnam's influence on Akuna and Aisbett goes beyond the food and menus.
Aisbett's personal touch is evident in the restaurant's details as he passionately shows you custom-made cutlery repurposed from artillery shells leftover from the Vietnam War, and a graffiti wall designed by local Vietnamese artists — possibly the only fine-dining restaurant to embrace the rule-bending edginess of graffiti art.
Author: Priyanka C. Agarwal
Priyanka is a writer, editor and storyteller. Her words have appeared on the print and online pages of The South China Morning Post, SilverKris, Her World, The Michelin Guide, Time Out, and more. She has also created custom content for leading brands like Sentosa, Mediacorp Special Projects, Asia's 50 Best, IKEA, and Meat and Livestock Australia. Her expertise includes food and drink, wellness, luxury and travel.