Thailand-Made Cheese Is Finding Its Place On Michelin-Starred Menus
Innovative and unique, locally made Thai cheese crafted by passionate artisans are fast becoming the preferred choice among Bangkok's top chefs. 
Share this exclusive content from Saladplate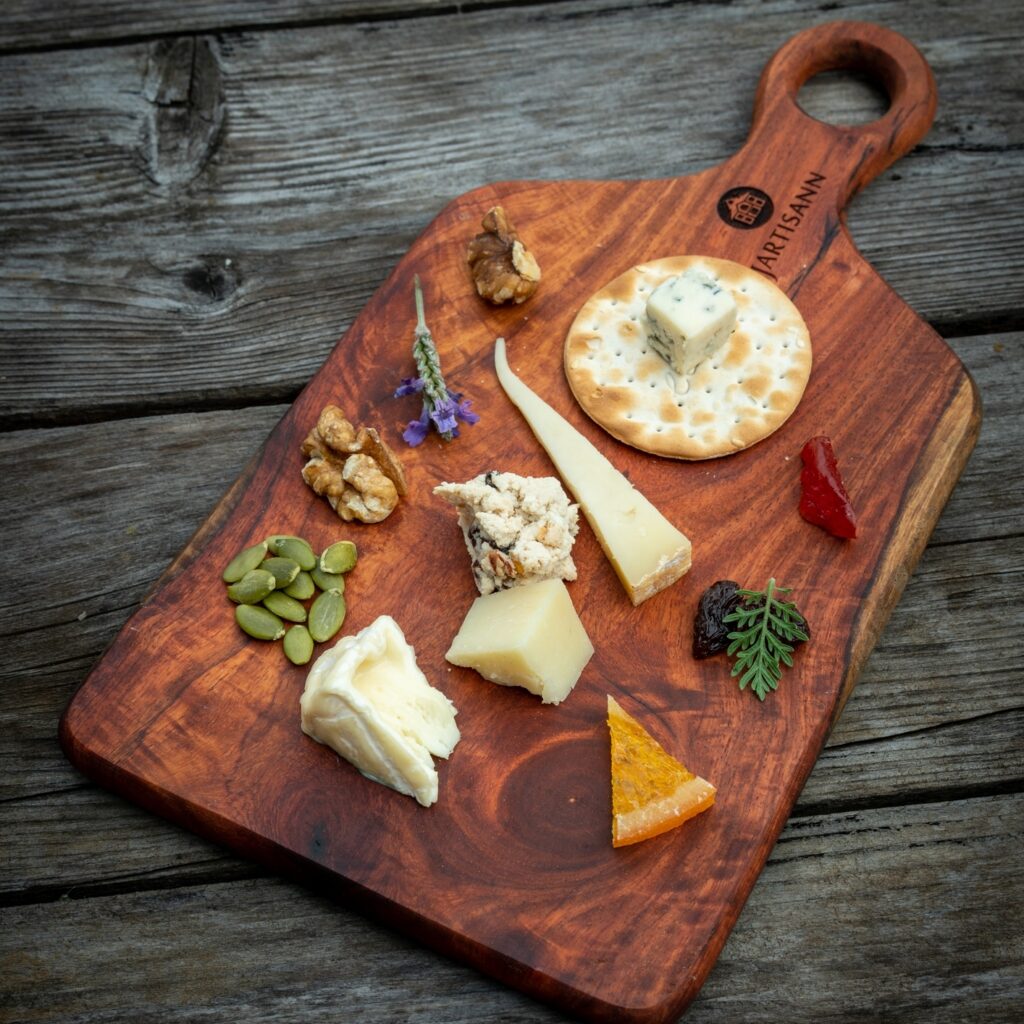 Photo Credit: Jartisann Cheeserie
Thailand is renowned for its beautiful beaches, vibrant street food, and rich culture. However, it might not be the obvious choice when one thinks of artisanal cheese. A handful of craft cheesemakers are bravely changing this perception. Made-in-Thailand cheese is quickly becoming a hot topic among travellers, especially when sampled in Bangkok's leading restaurants.
Though the country lacks a long history of cheesemaking, it is gaining recognition for producing exceptional cheeses, thanks to a small but dedicated community of passionate cheesemakers. They are crafting innovative creations right in their backyards, such as cheese washed with Thai rice spirit or coated with bamboo ash, wild rice, and pandan leaves.
These unique fromages cannot be found or experienced outside Thailand. Yet.
Thailand Made Cheeses Are Differently Better
Thailand's artisanal cheesemaking scene may be young and niche but the cheesemakers are dedicated to highlighting the country's distinctive tropical terroir. As a result, Bangkok's top chefs are increasingly opting to serve locally-made cheeses in their restaurants instead of industrial imports.
One such chef is Thitid Tassanakajohn, better known as Chef Ton of Le Du in Bangkok, recently awarded the No.1 spot in Asia's 50 Best Restaurants 2023. He is one of the pioneers of the locavore movement in the country, working with farmers, fishermen and foragers to get hold of the best local produce, and then transforming them into exceptional dishes for diners.
"Supporting local is about good food, but also about the well-being of Thai farmers and fishermen and our planet," Chef Ton was quoted as saying in an interview with South China Morning Post.
At Le Du, diners can look forward to tasting local artisanal cheeses by Heaven on Cheese, run by owner-cheesemaker Reinhard Matheis in Nakhon Sawan—a city 250 kilometres in the north of Bangkok, Matheis uses only fresh, raw cow's milk from local farms for their creations.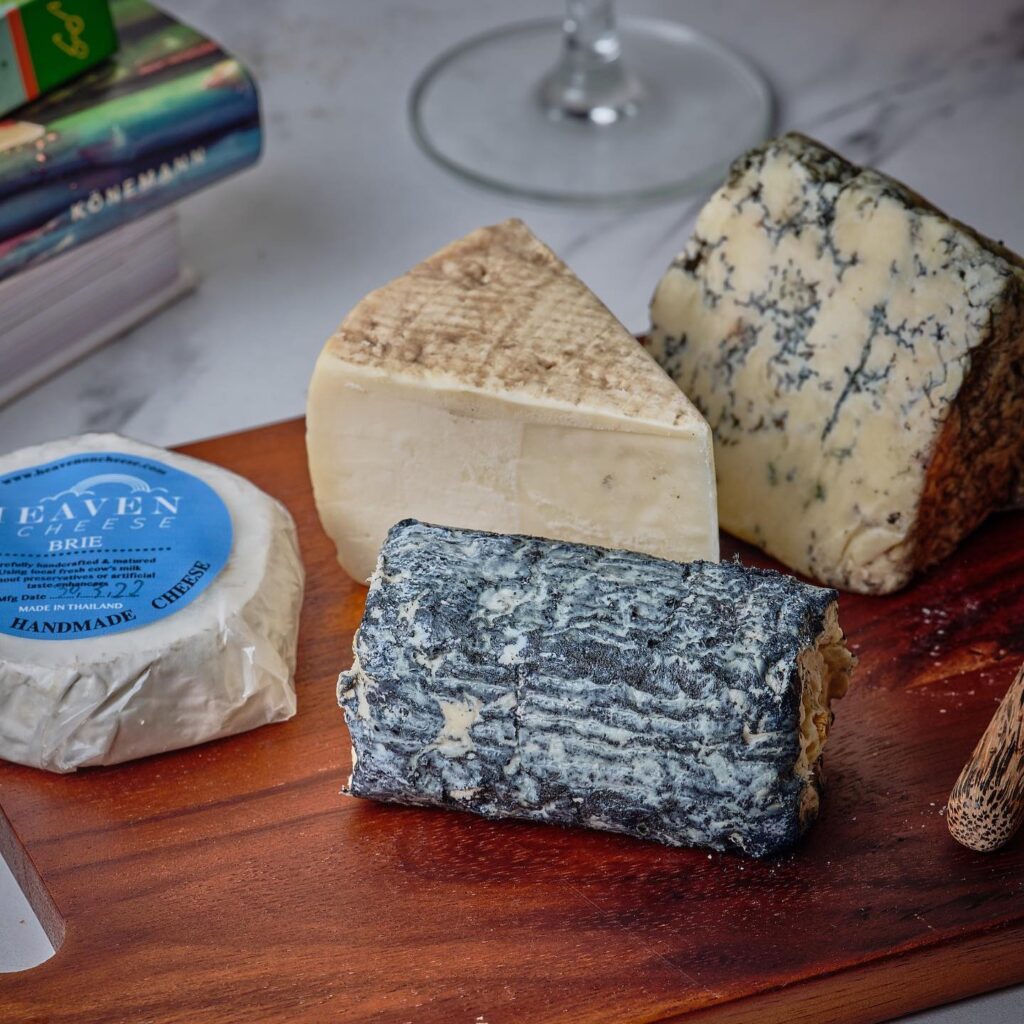 Photo Credit: Heaven On Cheese retails their local Thai cow milk cheeses via artisanal butchery Sloane's | Photo Credit: Sloane's Facebook Page
A former luxury cruise ship chef, Mathesis was inspired to try his hand at the craft after moving to Thailand in 2005 as he missed the taste of high-quality cheese. Matheis started out as a confectioner and baker, first in his native Austria, then in South Africa, before taking his culinary talents onto the high seas. Having honed his craft for the past decade, he is convinced that local Thai cow's milk creates unique cheeses that offer a distinct flavour profile and overall better consistency than their European counterparts.
Producer of the Country's First Blue Variety
Photo Credit: Jartisann Cheeserie
 Photo Credit: Jartisann Cheeserie
Widely regarded as a pioneer of Thailand's artisanal cheesemaking movement, Jarutat "Jart" Snidwongse Na Ayuthaya runs Jartisann Cheeserie with his wife Ann in Hang Dong District in Chiang Mai. A self-taught cheesemaker, Jart is hugely passionate about his craft – he currently offers more than 10 cheese varieties in his shop, all made with high-quality raw cow, goat and buffalo milk sourced from the mountains and valleys around Chiang Mai. In addition to using locally sourced milk, Jart also makes it a point to use equipment that is sourced locally.
One of the things that makes Jartisann's cheeses special is how he attempts to add a "Thai twist" to his creations. A popular favourite is Hidden Agenda, a strong and complex-flavoured soft cow cheese. An original Jartisann innovation, this cheese's sticky pale orange rind is washed with light brine and Lao Khao (a Thai rice spirit) three times during the affinage and ripens in five weeks. The end result is spectacular and packed with layered flavours.
Another one of Jart's signature and most innovative creations is the Royal Bleu – a semi-hard blue cheese that is aged in a nearby cave. Reminiscent of Gorgonzola and Stilton, the Royal Bleu is aged for a minimum of 10 weeks for a 'mild blue' and attains full creaminess and intensity after 16 weeks. Jartisann's cheeses are also gaining traction at some of the country's finest restaurants including two Michelin-starred R-Haan in Bangkok.
Farm Table to Cheese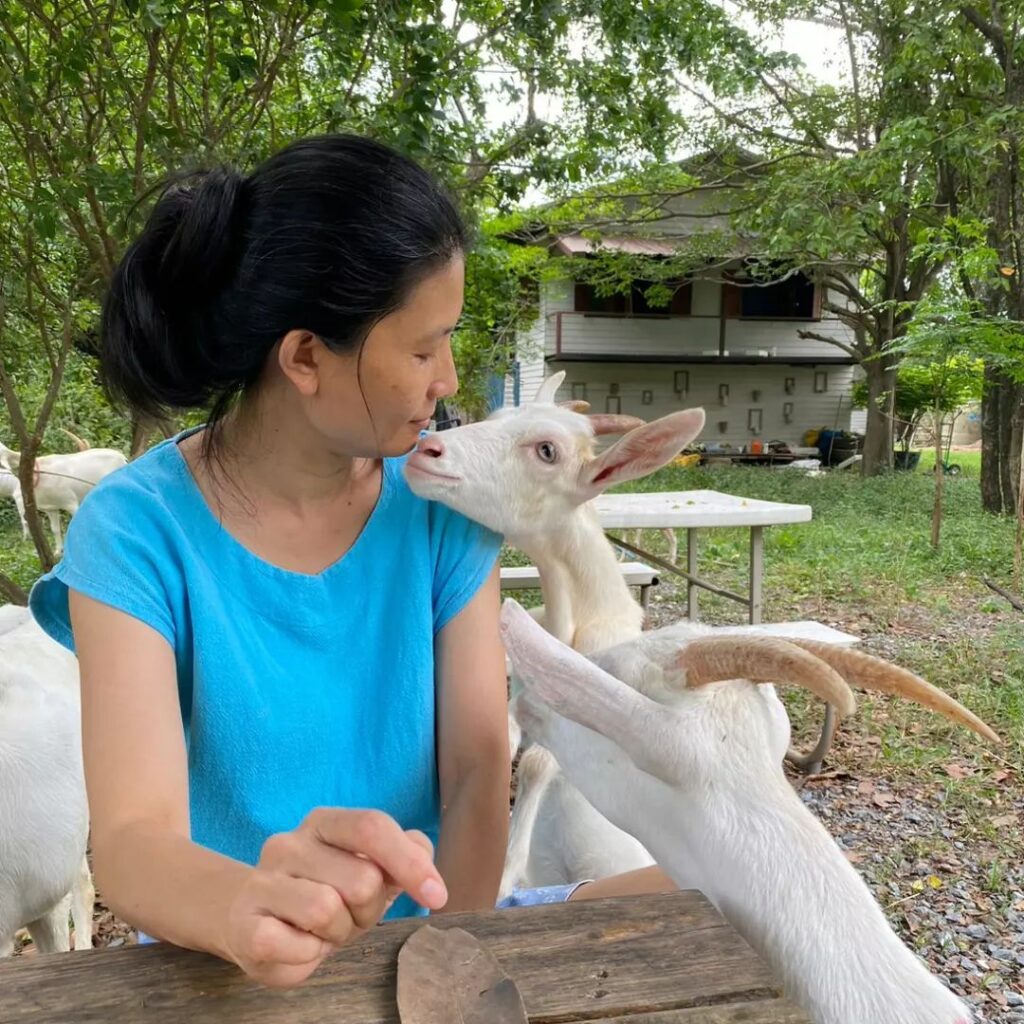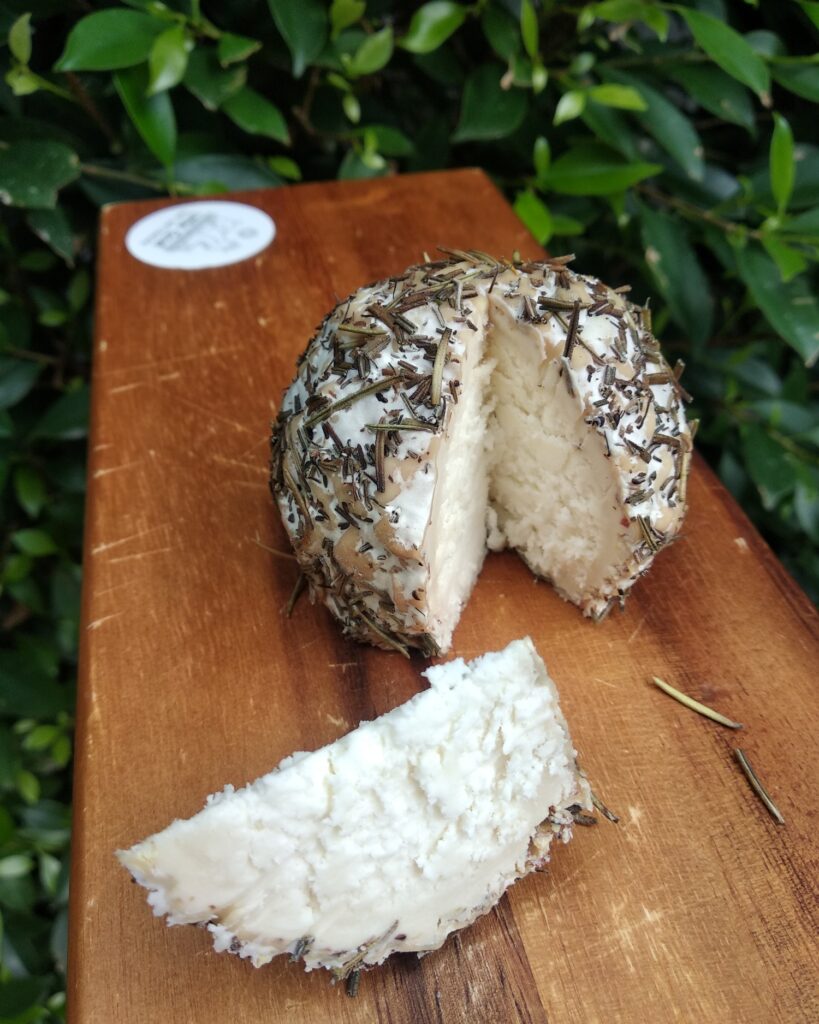 Rachanikorn "Kai" Srikong at Little Goat Farm Cheesery | Photo Credit: Little Goat Farm Cheesery  
One of the 10 different varieties of Goats milk cheese by artisanal brand Little Goat Farm and Cheesery | Photo Credit: Little Goat Farm and Cheesery
When it comes to cheesemaking, the quality of milk is key to ensuring a delicious block of cheese, which is why the founder and owner of Little Goat Farm and Cheesery, Rachanikorn "Kai" Srikong, firmly believes in raising her own goats. On her farm in Nakhon Pathom, situated an hour's drive from Bangkok, the former vet turned self-taught cheesemaker raises a herd of around 30 goats that are allowed to roam freely in their natural environment. Apart from enjoying a nutrient-rich diet comprising grass, hay and banana stalks, the goats also get a lot of Kai's love and attention. To Kai, a happy goat produces better-tasting milk, and this is evident in the cheese she makes.
Little Goat Farm and Cheesery currently offers over 10 different varieties of cheese, some made with a local twist like the Umarine, cow's milk cheese washed with Moa berry liqueur from the Phu Phan mountain, located in the northeast region of Thailand. Featuring a dark-coloured rind, the cheese boasts lovely wild berry notes. Another notable creation that is hugely popular among consumers is the Nourkai, a French-style soft goat cheese with wrinkled skin. Aged for 14 days, this cheese, which is named after her, is delightfully creamy with fruity notes. Kai's creations are currently served in more than 10 high-end restaurants in Bangkok, including one Michelin-starred J'aime by Jean-Michel Lorain.
In Thailand,  locally-grown and made ingredients are in the spotlight with the country's leading chefs and restaurants championing the locavore movement. Thailand-made cheese is on the rise and it is only a matter of time before they find favour even beyond Thailand's F&B landscape.
Author: Michelle Yee
A content and communications professional, Michelle spent more than a decade writing for several leading media titles including Lonely Planet Asia, Yahoo Singapore, Wine & Dine. After leaving the media industry in 2019, she has been honing her craft at a global communications agency where she helps develop and drive publicity campaigns for brands in the consumer and corporate sector.